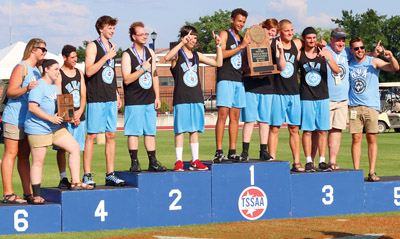 Hardin Valley Academy's Unified Track and Field Team receives the TSSAA Unified Championship trophy following their top finish collectively in five events Thursday afternoon, May 24, at Middle Tennessee State University in Murfreesboro.

HARDIN VALLEY — Tennessee Secondary School Athletic Association has begun to reach out to the state's Special Olympians.

The state of Tennessee had its first Unified Championships of state high school track and field late last month in Murfreesboro.

That championship meet was held concurrently with the TSSAA "Spring Fling" State Championship Meet at Middle Tennessee State University's Dean A. Hayes Track and Soccer Stadium May 22-25.

Hardin Valley Academy was one of eight schools chosen to compete in the inaugural event. The Hawks were declared meet champs despite finishing second in the standings.

"Lebanon actually had more (team points) but they violated meet rules," said Hardin Valley coach Tim Lee, who serves as Area Co-Director for Special Olympics of Greater Knoxville along with Gina Legg, who teaches at Gibbs High School in Corryton. "They had people competing in more events than they were supposed to.

"(Meet officials) wanted partners and athletes to compete in no more than two events," he added. "They also wanted you to have four partners to compete with the athletes."

Joining the Hawks at the Unified Championships were Sycamore, Bartlett, Volunteer, White County, Glencliff and Harpeth.

TSSAA chose eight from the field of schools that had unified teams, and Lee said that was by design.

"The TSSAA actually reached out to us at Special Olympics," he said. "Other states have had unified meets for years. They chose eight teams because they wanted everything to look right.

"They will expand and they're also looking at doing this in other sports in the future as well," Lee added. "They started with track and field this year and this was a success. It eliminated the stereotypes for Special Olympic athletes and it gave everyone a chance to compete.

"That's the great thing about sports. It gives athletes, whether they're kids or adults, it gives them a chance to belong. It gives them a chance to compete and to be a part of something. We had five events."

Athletes competed in the long jump, shot put, 100-meter dash, t 4 x 100 relay and the 200-dash.

The Hawks finished second in the long jump competition. Brandon Ray finished third in the mixed competition with a leap of 15-03.25. HVA's Trey Boseman finished 12th with a mark of 10 feet, 4 inches.

Boseman also plays football at HVA.

The scores were combined and Hardin Valley's combined effort netted 25-07. 25.

The Hawks won the shot put with a combined distance of 68 feet, led by Luke DeFur as overall champion (46-02.00).

HVA's Daniel Gooch finished ninth (21-10).

HVA also claimed the runner-up spot in the 100-meter dash. Hawk Noah Morro finished second overall (12.43 seconds). Boseman was ninth (14.19).

The Hawks were fourth in the 4 x 100 relay. The team of Ethan De La Rosa, DeFur, Gooch and Morro finished the race in 57.24 seconds.

Hardin Valley closed the meet by finishing fifth in the 200-dash. Cade Huff came in third with a time of 25.98 seconds. Cody Fink finished 13th (33.89).