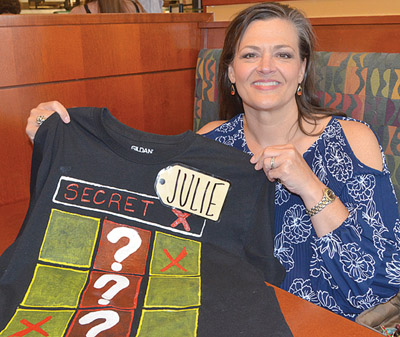 Hardin Valley resident Julie McBee Corn shows off the special shirt she hand-made in hopes she would be selected as a Price as Right game show contestant.

It may have lasted less than five minutes, but Julie McBee Corn realized a life-long dream of being able to "come on down" on the Price is Right late last month in Los Angeles.

The Hardin Valley resident heard her name and the famous catch phrase, and became the last contestant of the day chosen to participate in the first round on the long-running CBS weekday morning game show.

Although Corn did not place the winning bid, she said, "just to even be there, and have that experience — I will never forget it."

She said she "had watched the show since I was little bitty … and it has always been on my bucket list to be on the Price is Right."

It actually was the second time this year she was a Price is Right audience member, along with her sister, Kimberley Ward, and niece, Emery Ward. Kimberley lives in Newport Beach, California, near the CBS Studios where the show is taped, and was able to get Price is Right tickets.

Both times the trio had to complete extensive paperwork in order to be considered as audience members.

For example, anyone who has been a CBS game show contestant within the last 10 years automatically is disqualified from participating, Corn said.

They also had to undergo an interview process for further consideration, she added.

Corn said two shows a day are taped in the studio. Since they were part of the second group, they had to wait for the first taping to finish.

She said the studio is not as large as it appears on television.

"You think it might be pretty good sized, but really, its pretty small," she said. "It has a big middle section, though."

Corn said the first time she went, which was in January, the show announcer, George Gray, spoke to her personally. So when Corn returned the following month, the shirt she specifically designed to wear mentioned Gray by name.

"When I said 'hello' the second time I was there, he did remember me," she recalled. "So I joked and told them I was a stalker. But everyone was genuinely nice."

Corn said host and comic Drew Carey kept the audience laughing before and in between shows.

"He does his live comic standup (routine)," she said. "It is just so much fun, just to go. And I remember sitting there, thinking, 'I am not going to get on there.'"

When the moment finally did come, Corn said, "I don't remember very much. I don't remember (Gray) calling my name. All I saw was my name on that card, and I sprung up out of my seat.

"Kimberley and I were grabbing each other's hands, and Emery was right in the middle."

When Corn did arrive at the foot of the stage, where she and three others would be bidding, "I just stood there and kept thinking, 'I can't believe I am standing here with Drew Carey on the Price is Right.'"

The prize the four bid on was a skateboard.

"I remember thinking that my son, Chad, would love it. I turned around and saw Emery who told me to bid $450.

"You think of all the stuff you would do, but your mind is a million miles away."

Ultimately, the skateboard was won with a $550 bid.

"After (the winning contestant) went up, I just sat down and thought, 'my son is going to kill me. He wanted a skateboard.'"

But the disappointment did not diminish Corn's enthusiasm, as she is a bigger fan than ever.

"I love playing those games," she said. "I play them all the time at home. It is fun to see if you can win the prize.

"It's just fun."

She now has her mind set on another game show: ABC's Family Feud. "Seeing Steve Harvey is also on my bucket list," she said, noting that since he was on a different network, she could be eligible for that show.

"... It's a whole different world out there," Corn added.