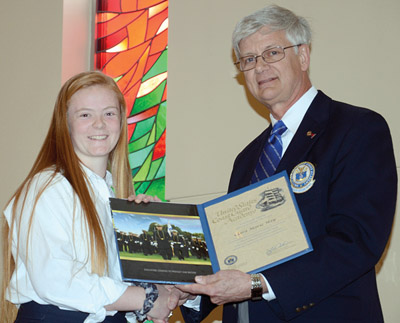 Clara Hay, Class of 2018 Knoxville Catholic High School graduate, received a four-year Coast Guard Scholarship Academy appointment earlier this year from retired Coast Guard Capt. Walter Hanson.

A recent Knoxville Catholic High School graduate — already regionally well-known for her rowing skills — now is adding a Coast Guard appointment to her many accomplishments.

Clara Hay of Farragut will report to the Coast Guard Academy in New London, Connecticut, Thursday, July 2, after receiving the appointment and a "full-ride" scholarship.

"Appointments to military academies are highly competitive," said Clara's mother, Jenny Hay. "(They) comprise full scholarships. For the Coast Guard, this amounts to a $400,000 award."

Hay was nominated for an appointment at the U.S. Naval Academy by U.S. Rep. John J. "Jimmy" Duncan (R-2nd District), but she also applied directly with the Coast Guard, which does not require Congressional nominations.

Melinda Kirk, school counselor with KCHS, said "it is (of) little surprise to any of us that she received the nomination and appointment to the U.S. Coast Guard Academy. When Clara came her junior year, she did quite well by quickly becoming part of our school community, asking for the toughest classes and getting to know her teachers."

After being at the school for just a year, Hay received the Monsignor Thoni Award, which Kirk described as "a distinguished Knoxville Catholic High School Award, acknowledging students (who possess) great character. She was described by teachers as a 'young woman (who) is faithful, a hard worker in class, and a quiet leader. She is a great role model for other students and is particularly kind toward others.'

"I would agree. Clara is a strong-willed and motivated young woman. She has done the extremely hard work to prepare herself to be successful in the path that she has chosen."

Hay could barely contain her enthusiasm when she shared the news.

"First of all, I am so proud (of) my appointment, and I feel so honored to have the opportunity to serve my country," she said. "This is going to be an amazing experience, and I am very excited to meet my class and become a tight team over the next four years.

"I love helping and serving people, while having adventures along the way, which is what makes the Coast Guard such a great fit," Hay added.

Jenny and husband, Jack Hay, also were excited for their daughter's achievement.

"In retrospect, we see that Clara was really made for this," her mother said. "Over her high school career, she managed to accrue the right credentials on academics, athletics, leadership and service. She wasn't deliberately aiming for a service academy, at least not before last summer.

"She just naturally enjoys the sorts of activities that service academies value," Jenny added.

"We are so happy that Clara will have this opportunity."

It does seem to be a natural progression for Hay, as a long-standing affiliation with the Atomic Rowers of Oak Ridge saw her compete in the United States Rowing Young National Championship two years in a row.

Hey said she will continue rowing at the Coast Guard Academy, while planning to major in marine and environmental sciences.