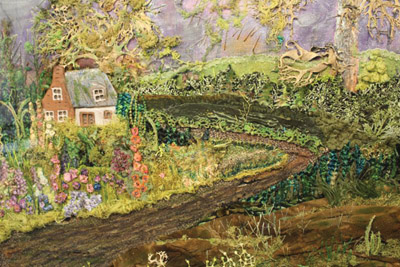 A fiber art piece by Jill Crociata features a landscape and cottage scene and shows the textures epitomizing her freestyle designs. Crociata's works were featured in May and continue in June as part of Farragut Art Council's Featured Artists series on the second floor of Town Hall.

Farragut Arts Council presents Jill Crociata of Knox County as its Featured Artist for May and June.

"I'm interested in cottages, and basically, 9the exhibit is made up of) cottages I made — and a landscape with a cottage in it," Crociata said.

Her cottage exhibit is on display in specially designed cases on the second floor of Farragut Town Hall rotunda.

The Town features the work of an artist or group of artists, according to a press release from Farragut Parks & Leisure Services, every two months.

Crociata said she uses any medium that works.

"For the cottages themselves, I usually make them out of a felt base, cover the felt with fabric and then I embroider on top," she said. "But they are all done individually. They are all different."

With other works, such as a set of curtains or pillow, Crociata might use lace, discarded wedding dresses and other old clothes, linens and yarn.

"Recently, I've been trying to work smaller, and I've been using the finest sewing thread I can find," she said. "Sometimes I use silk … usually anything that is variegated — hand-dyed is important.

"I go to KARM, and I look for great textures," Crociata added. Or, "I go to the second-hand store and just go down the aisles looking just at the sleeves to see if I can find something interesting."

Crociata's hometown in Quebec, Canada, inspired the cottages, as well as 1930s cottage and garden design. She adds a contemporary twist, emphasizing texture by layering fabrics and hand-stitching, to create red-roofed cottages, forested landscapes and gardens.

"I grew up in an old, old part of Quebec, where things are charming and old-fashioned," she said. "Things don't change for a hundred years. We have a lot of houses there with red roofs, little stone cottages and quaint places."

Crociata compared it to Knoxville, where if she left and then came back, "there would be a whole new subdivision, which shows that we're booming and the economy's good."

Previously, Crociata and her husband lived in Hawaii for 16 years, but they moved from Pearl Harbor to Tennessee 22 years ago, when her husband retired from the submarine service in the U.S. Navy and went to work at the Y-12 plant in Oak Ridge.

Creating art with textiles always has been a part of Crociata's life. "All my family has done things like that," she said. "My father taught rosmaling (a form of Norwegian painting), my mother knitted," she said. "I just followed suit."

The part of Quebec in which she lived was an English settlement and "that's what people did," she recalled and laughed. "It was just a sort of way of life, I think."

While her interest in fiber arts stemmed from her past, she has her own style.

"The way I do it is freestyle," she said. Instead of the counted thread embroidery, she prefers to make up her own designs.

"I am able to be creative and do what I want," she said.

She belongs to a freestyle group in the Knoxville chapter of Embroidery Guild of America.

"(The EGA) just had that show at the Town Hall," she added. "We all do different things, but the freestyle group is all not from patterns. It's all individually designed. Everybody does something different, but we inspire each other."

This is not Crociata's first time as a FAC featured artist. "I try to put in new pieces," she said.

To access a Featured Artist application, visit townoffarragut.org/artsandculture/, contact Brittany Spencer at ParksandRecInfo@townoffarragut.org or call 865-218-3378.