Facing uncertain future, Webb turns to social media for help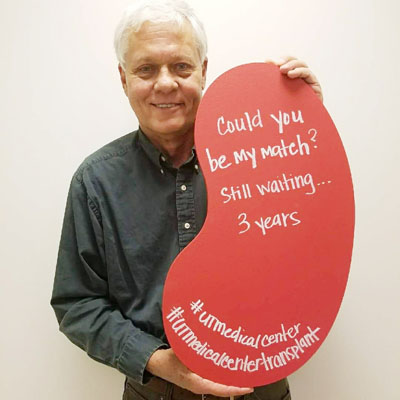 Roy Webb took his need for a kidney to social media last month, and is pictured here with a cardboard "kidney" to draw attention to his situation.

Roy Webb typically is a private man. Only his family and a few close friends knew the severity of his kidney problems even though he has been on dialysis for three years. Webb has been placed on the transplant wait list at University of Tennessee Medical Center.

So when the Hardin Valley resident decided to go public with his need for a new kidney earlier this year, his wife was surprised — but very happy.

"He posted it on Facebook, and we asked our friends to 'share' and tag their friends," Vicki Webb said. "It really seemed to pick up steam when it was posted (on the Facebook page) Knox Area Trading. It has had over 1,500 total shares, and (the story)

was picked up by local television stations.

"I was so thrilled when he was willing to share that."

While a donor has yet to be found, the couple and their extended family members remain optimistic.

"As Christians, we believe everything will work out in God's perfect timing," Vicki said.

When the couple married in September 2014, Vicki knew her husband had chronic kidney disease — even taking educational classes to prepare them for a variety of scenarios.

"They even talked about dialysis options, but you just don't think it will happen to you."

However, their lives changed drastically the following May on a trip to Galveston, Texas.

"He loves the beach, but he was just too sick and too tired to go," Vicki said.

By the time they returned, Roy was so ill his kidney doctor operated immediately to prepare his body for its "new normal" of nightly peritoneal dialysis.

Every night since, he has undergone 9.5 hours of peritoneal dialysis, which filters impurities out of his bloodstream.

Initially, Roy said he did not want a kidney transplant. But as his health declined, he eventually decided otherwise.

Roy, who was very active, now can't walk far, and even finds himself having to make several attempts before completely mowing the couple's lawn.

"It has changed our lives," Vicki said. "It has changed everything."

Locating a living donor is "by far the best option for success and life expectancy," Vicki said.

Of the couple's seven children and seven grandchildren, Roy's daughter, Nicole Phillips, immediately offered to help, but was declared ineligible when testing determined she also had kidney issues.

In the meantime, Vicki has since retired to be home and make sure Roy stays healthy enough to stay on the transplant list.

For more information, contact UT Center of Transplant Services at 865-305-9236.