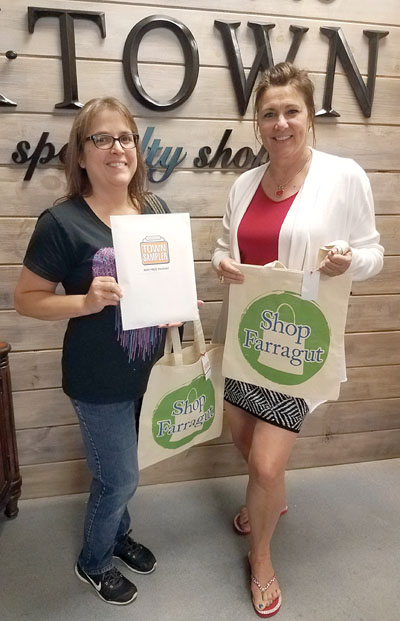 Farragut resident Danielle Mansouri, left, is May winner of Shop Farragut TOWN SAMPLER prize package. She is pictured with Christine Schillici, owner of K-Town Specialty Shoppe — one of 20 SAMPLER sponsors.

Mansouri received more than $150 in gift cards and items from a variety of participating Farragut business, which also include: Campbell Station Jazzercise, Costco Wholesale, Elliott's Boots-Shoes-Sandals, Fitness Together, Great Clips, Health Markets Insurance Agency, Jiffy Lube, Knoxville Academy of Martial Arts, Kumon of Farragut, Longhorn Steakhouse, Mario's Pizza & Grill, Michael Broyles Photography, OsteoStrong of Farragut, Planet Fitness,

Rick Terry Jewelry Designs, The Casual Pint, The Consignment Shoppe @ Campbell Station, Water Into Wine Bistro & Lounge and Zaxby's.