A season perspective on the Farragut High School tennis season, as told by an "insider," Class of 2018 player Riley Woody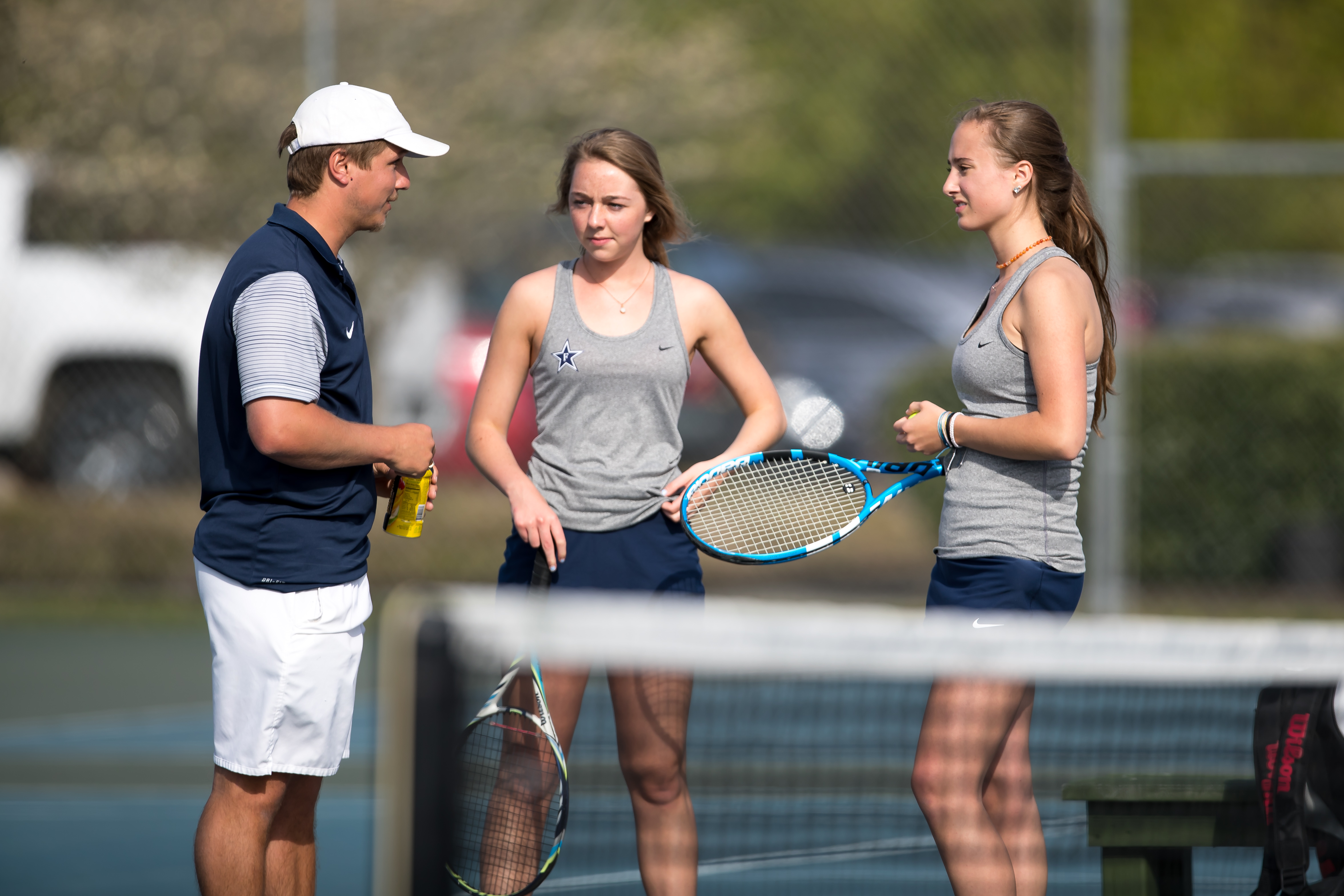 Head coach Xan Witherington, Lauren Manhardt and Spencer Stegall

The Farragut High School tennis team had a fairly successful season in 2018, beginning with an away match at Heritage HIgh School.

The hour's drive to get there proved helpful in focusing our game as we clenched solid victories for both boys and girls. The No. 1 girls' doubles had a riveting match, resulting in a tiebreaker — but they came out on top.

The Hardin Valley match proved less rewarding, and was only halfway played before it started raining. We would not resume for almost a month, finally finishing on April 27. A close defeat placed the girls fourth in their district by the end of the season.

The April 4 match (my 18th birthday) against Knoxville Catholic went about as expected, with defeats across the board — with the prideful exceptions of Katherine Klenske, who fought harder than anyone all day, and Lauren Manhardt, who proved her worth in spades all season long.

The girls pulled out a win against West, but unfortunately the boys had a tougher time.

Both teams won the away match at William Blount before the girls suffered their own loss to Maryville, who sealed an uneasy win last year that prevented us from playing in team districts.

This year was just as close, and when the smoke cleared, every trick had been used and Maryville squeezed out the tiebreaking third-court singles win. Sophia Luna put up the fight of the season in her singles match — an eight-games-all, seven-point-tiebreaker struggle — and we were all proud to be her teammates.

By the time we reached the Bearden match, our motivation stemmed from old-fashioned rivalry, plain and simple. Katherine Klenske met her match against Bearden's nationally-ranked No. 1 singles player, who we all simply refer to as "Ju-Ju." The boys also had a tough match and a disappointing loss.

The season closed out on a high note, with calm matches against Lenior City and Karns high schools, the latter of which only this year managed to assemble a team and kickstart its program.

Neither boys nor girls made it to team districts, but the top six players on each participated in the individuals district tournament. Jackson Poindexter and Davis Luna, Max Rennich and Crawford Hullender, Payton Todd and Spencer Stegall, and Lauren Manhardt and myself opted to play singles, with Poindexter/Luna and Woody/ Mahardt making it to the second round.

Sophia Luna sadly lost her first round match to William Blount's regular season No. 2 singles player, but Katherine Klenske made it to the semifinals.

Joey Hudson, a freshman, made his way to the second round and fought hard against Bearden, but sadly did not win out.

Suhil Suresh started out with a rough match and did not manage to advance — but gave it his best shot.

Farragut fought hard, and returnees for 2019 hope to make it even further next year. They have some very promising freshman, and strong rising senior leadership for the coming season. Farragut's coach, Xan Witherington, makes an exceptional effort to coach each and every player to the best of his or her ability and values every player's potential to make the team stronger.

I am grateful to have been a part of such a great team of people and a solid season, which saw us all improve our game.