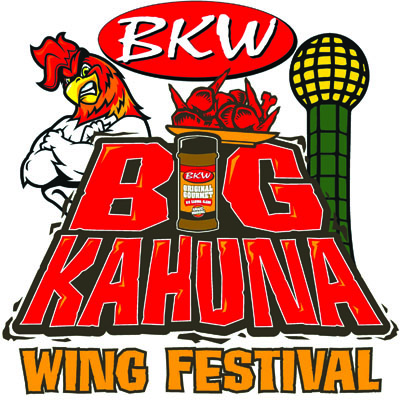 Seven years ago, Matt Beeler had an epiphany that combined his own background in barbecue seasonings with the national fascination for "buffalo" chicken wings, and a tradition was born.

Celebrating its sixth year Saturday, June 16, Big Kahuna Wing Festival brings thousands to Knoxville's World's Fair site to enjoy samples of "the best of the best" chicken wings, prepared by nearly three dozen teams from all over the South, all of whom are vying to win the festival and be recognized as Tennessee State Champion.

Festival winners becoming eligibility to compete in the World Food Championship in Orange Beach, Alabama, in November is new this year.

Beeler, owner of Big Kahuna Wings Bar and Grill in Farragut, also owned Big Kahuna Seasonings when he was inspired to create the event. He had attended a similar venue in another part of the state in 2011, which made him wonder why the East Tennessee region didn't offer the same opportunity.

"I traveled across the state to attend a Hot Wings Festival and discovered something was missing in my hometown," he said. "Why, with all the wing lovers in East Tennessee, did we not have a festival to celebrate wings?"

Starting in 2013, Beeler began a tradition that has brought around 32,000 to Worlds Fair Park to enjoy what he said is "America's No. 1 appetizer," with typically 20 billion being consumed annually.

Last year alone brought about 8,000 wing enthusiasts to World's Fair Park to enjoy 100 different sauces from 40 teams representing restaurants, businesses, individuals and culinary programs from the University of Tennessee and Pellissippi State Community College.

In addition to enjoying the wide variety of tasty treats, three wing-eating contests also are a highlight. "We have a wing-eating competition to see who can eat the most wings in three minutes; an XXX wing-eating competition, to see who can eat the most of the hottest wings at the festival; and a 'bobbing for wings' competition to see who can bob the most wings out of a pool of ranch dressing," Beeler said.

For those interested in other fare to complement their wing intake, Springer Mountain Farms will host a culinary corner to offer a variety of food samples, and six other vendor booths will serve ice cream, shaved and Italian ice and kettle corn.

A sampling of beer also will be sold to patrons ages 21 and over, and live music will accompany the event throughout the day.

Performers will include Sam Bush, the Eli Fox Band, Smooth Sailor and Crawlspace.

The event is family-friendly, too, with a Kids Corner designated area filled with fun activities for the younger set.

On-site celebrity chefs making an appearance for "Culinary Corner" will include Josh Davis of Kitchen 919, David Rule of The Walnut Kitchen, Danny Wilhoit of Bistro By the Tracks and Deron Little of Seasons Cafe.

The event opens at noon, and will run until 8 p.m. Tickets are $20 in advance and $25 at the gate. Ticket holders are allowed 25 wings each, and additional wings are $1 each.

Free parking is available at the 11th St. Garage, and patrons are welcome to bring lawn chairs.

For more information, visit www.bkwfestival.com.

Tickets are available either online or at Big Kahuna Wings Bar and Grill, 12828 Kingston Pike.

Beeler's idea to start such an event included making sure it would raise money for local charities, such as Empty Stocking Fund, the culinary programs at UT and PSCC, and Second Harvest.

Another charity, Big Heads, Big Hearts, benefits the family of Beeler's childhood friend who died tragically at 39 following an allergic reaction to bee stings.

Over the years, more than $220,000 has been raised for these and other charitable causes.

Beeler also is expanding Big Kahuna Wings Bar and Grill, with plans to open a second restaurant near West Town Mall in August.

He said all that ongoing planning and coordination "has made things interesting" in the lead-up to this year's Festival.