Varied interests, achievements highlight Ben Boring's 90 years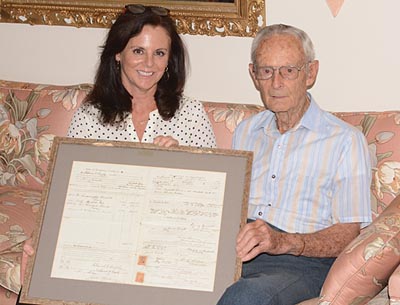 Ben with daughter, Benna Boring, holding a contract from the Civil War, dated 1862, where Confederate soldiers made a deal with Boring family relatives to render credit for food and other items.

There's lots of resilience associated with a certain location along Boring Road in Farragut: a 70-year-old tractor, a still-reliable 1948 Ford, and the Boring family barn, still sturdy after 162 years, are just mechanical and structural examples.

The flesh-and-blood resilience, however, is most noteworthy: Ben Boring, who just turned 90 Tuesday, June 19, bounced back from military wounds needing 300 stitches, to prepare for a critical invasion during the Korean War.

Carrying the toughness he learned as a dairy farmer's son at a very early age into his senior years, Ben isn't about to slide quietly into a life consumed by crossword puzzles and television.

"I've got a 70-year-old tractor and a 90-year-old man using it," Ben said about his regular mowing and bush-hogging chores, covering about 11 acres of his property along both sides of the road named in his family's honor. "I enjoy it."

The family owned 168 acres at one time from south near Kingston Pike, west near Smith Road and north near Grigsby Chapel Road.

Ben also reflected on decades as a horse trainer and champion showman touring and winning awards throughout the Southeast with up to 115 horses — all done in the hours, often until midnight, after his regular job.

A popular furniture salesman, Ben combined 52 years of service at Braden's Wholesale Furniture and Knoxville Wholesale Furniture.

He also was owner of a rolling grocery story "for two or three years" serving "from Bearden, to the (Tennessee) River, to Solway, to Dixie Lee Junction," Ben said.

Family reflections

A father of three children and five grandchildren, Ben shared lots of family memories that included his late wife of 52 years, Patsy Boring.

"I only dated her steady for four days," which began "on a Tuesday — and we were married that Saturday," June 18, 1955, Ben said.

He is the lone survivor among four siblings (two boys and two girls), the children of Charlie and Hallie Hackney

Boring. "We were raised on the farm, my daddy never had a job," Ben said. "… He never had a tractor, used horses and mules.

"I can remember driving cattle from here to my mother's place on Concord Road," he added. "Just loose down Kingston Pike, cattle and 10 or 12 calves. There wasn't hardly any traffic."

When Kingston Pike "had a grass strip down the center," Ben recalled one year when "the state mowed it, and daddy and I took a team of horses and raked it out and hauled it out of the middle of Kingston Pike with that team of horses."

FHS groundbreakings

His relatives have groundbreaking ties to Farragut schools/Farragut High School.

Ben said his only aunt, Annie Boring Smith, "Was the first graduate of Farragut High School. She was the only one in the class."

Moreover, "His great-grandfather William Clinton Hackney on his mom's side, he was one of the co-founders of (Farragut) school," said Benna Boring, Ben's daughter.

Ben is one of five surviving members of the FHS Class of 1946 "who started in the first grade together" who gather "on the fourth Monday night of every month for supper together," he said. "I guess we've been doing it 20 years."

The beating

Ben wore Navy blue and silver as an Admirals basketball player, but FHS principal Drew Gaylor turned him black and blue.

Receiving "a beating" from Gaylor for having a firecracker a friend shot off at school, "He held me down with one hand and started whipping me with a belt," Ben recalled. "He wanted to make me cry … but I was determined he wasn't man enough to make me cry.

"He about beat me to death. … But I didn't cry."

When his father saw the wound caused by the whipping, "that was three weeks later and my leg was still black and blue," Ben added.

Confronting Gaylor at a ballgame, Charlie Boring said his son received "'a beating not a whipping … his leg is still black and blue and it's been six weeks,'" Ben recalled his father saying.

"'If it every happens again I'm going to come over here and hold you and let (Ben) beat the h--- out of you.'"

The explosion, recovery

But that beating was nothing compared to what Ben endured while a corporal in the 101st Airborne after joining the U.S. Army in December 1950 during the Korean Conflict.

"I trained in the 101st Airborne in Kentucky, then I went overseas and joined the 1st Cavalry," Ben said about his two years of service.

While at a base in Japan, "I was wounded by friendly fire," Ben said about an explosion that literally tore up the mid-section of his body and severely damaged internal organs.

"It took over 300 stitches."

But before he could get to the hospital, "It was early spring and the snow was melting, and the ambulance got stuck . … They put me on a helicopter," Ben added.

Three months of rehabilitation followed before Ben "went to Korea, and we made the 'mock' invasion that ended the Korean War," he said about still enduring enemy fire before alternate air cover stymied North Korean resistance.

Thinking he would be part of the actual invasion until 24 hours before, "I though it would be my last day on earth," Ben said.

Civil War, 1800s documents

Ben has a vast collection of "mostly deeds and financial transactions … real estate transactions" in long-hand dating back the early 1830s, Benna said. "We have documents from when the Civil War came through here. They took rations from the family."

Ben and Benna displayed a framed document of a bill credit for food and supplies signed by Confederate soldiers in 1862.

"That was written out to Nathaniel Grigsby," Benna said about Ben's great-grandfather.

"If (the Confederates) had won they would have paid for it," Ben said with a laugh.