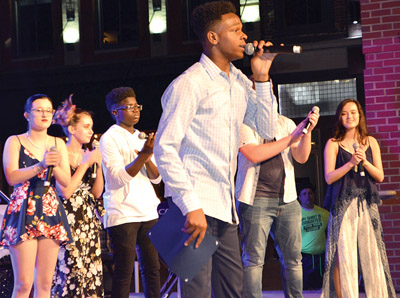 Nehemias Gil, Hardin Valley High School rising junior, recently won Eighth Annual County-wide CTE Singing Contest, held at Market Square in downtown Knoxville. Having his sights set on the possibility of a music career. Gil bested 14 other students to win the event.

Hardin Valley Academy rising junior Nehemias Gil has a lot to celebrate this summer.

Not only did he win the city-wide Career Technical Education Singing Contest in May, he also is waiting to hear if he will appear on NBC's prestigious vocal competition, "The Voice."

He bested 14 other HVA students to compete at the eighth annual CTE event, which pitted 15 area school winners against each other, with Gil emerging as the victor.

Gil sang "Brother" by Need to Breathe and won the event with "The World's Greatest" by R. Kelly.

Gil, who has sung since childhood, said the CTE win "opened my eyes to bigger and better opportunities.

"I have never won anything in my singing career — this was a first," he continued. "It just put a bigger picture on it, and showed me I could go further.

The CTE win came with two hours at NashTN Studios, where he will record songs that may later be published. He has not set up that date or time yet but said it will be before he leaves to visit family July 27.

Gil also has auditioned for "The Voice," which crowned West Knoxvillian Chris Blue the winner of its 13th season last year, and is waiting to hear back about any further consideration he may receive.

Gil was born in New York City to Ricardo Gil and Oneida Avila, who were from Honduras. His father, as a church worship leader, influenced him musically he said.

His parents divorced, and he moved with his mother, brother, Oseas Gil and sister, Lucila Gil, to Knox County when he was 6.

"She moved us here for a better life and better opportunities than she felt we would have had if we had stayed in New York," Gil said.

Now, 10 years later, he said she "feels she accomplished what she set out to do."

In addition to Gil's own budding opportunities, his sister is in college and his brother is studying welding at trade school.

"She feels that we would not have had any of these opportunities had she not come here," Gil said. "It would not have been that easy in New York."

Gil said he "would love" to make a career of his singing talents. "I love music. I love performing … and I'm excited to see that I may be able to make a future out of it," he said.

However, his "Plan B" is the business field, which he already has followed to some degree as a member of HVA chapter of DECA.