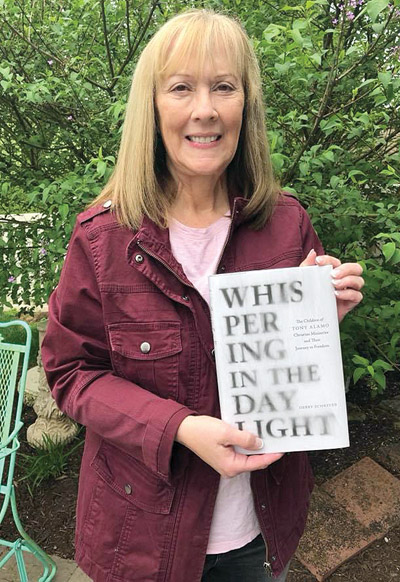 Farragut author Debbie Schriver published her most recent book, "Whispering in the Daylight," earlier this year, and will be signing copies from 2 to 4 p.m., this Saturday, June 30, at Barnes & Noble Booksellers, 8029 Kingston Pike.

Farragut author Debby Schriver was not actively looking for a new book subject when her husband, Rob, told her about a government contract worker he met at his Oak Ridge office.

"The man just started talking to my husband about the children he and his wife had fostered then adopted," Schriver recalled, noting the children had been raised in a cult but had been forcibly removed during a raid in 2008.

"Their father was concerned about the fact that (the children) weren't really talking about what had happened, and he was looking for a writer to maybe tell their story."

After Rob Schriver shared that his wife was indeed a writer, Debby was able to meet with the father, and eventually his children, to begin a four-year investigative process to tell their story in "Whispering in the Daylight: The Children of the Tony Alamo Christian Ministries and their Journey to Freedom," which was published earlier this year.

"Those children are the reason I wrote the book," she said.

"And their story is true — every bit of it."

Tony Alamo and his wife, Susan, started their "ministry" in the late 1960s, and established compounds all over the country — including Nashville — and membership numbered around 1,000 in its heyday.

They based their organization around their interpretations of the King James version of the Bible, Schriver said. And while adult members were recruited nationwide, children were not recruited, but were instead born into the cult.

Within that life, children don't know anything else.

"Kids work in cults — they don't get to be kids," Schriver said. "There is all this inner secrecy, and the whole community re-enforces it."

Schriver conducted interviews with hundreds of cult survivors and has met many more during her ongoing book publicity tour.

"The book has triggered a lot (of memories) for former cult members," she said. "Especially among the mothers (of children born there), who have a lot of shame, guilt and embarrassment over what they allowed to happen regarding their children.

"But they were brainwashed into believing what they were taught."

Susan Alamo died in 1982, but her husband carried on the "ministry," even as it grew to include charges of child sex abuse, of which Tony Alamo was ultimately convicted in 2009. He died in prison in 2017, before Schriver's book could be published.

But she said during those eight years in prison, Tony Alamo continued to operate the cult from behind bars and, in fact, the cult still survives today with an estimated 300 current members.

To that end, Schriver has encountered at least one proponent of Tony Alamo's during her book tour, who publicly branded the books' subjects as liars.

Undeterred, Schriver said she is even more determined to educate the public, not only about the Alamos but also about the proliferation of cults in general.

"Cults are everywhere," she said, and noted unofficial estimates cite around 5,000 in the United States today.

"We have got to do something about the children (impacted) by cults," Schriver said. "It is the only way to stop the cycle."

She also plans to start a foundation to help cult survivors, and will be donating some of her book proceeds to that cause.

Schriver will be signing "Whispers in the Daylight" at Barnes & Noble Booksellers, 8029 Kingston Pike, from 2 to 4 p.m., this Saturday, June 30.

Her book also can be purchased at Union Book Store in downtown Knoxville, or on Amazon.