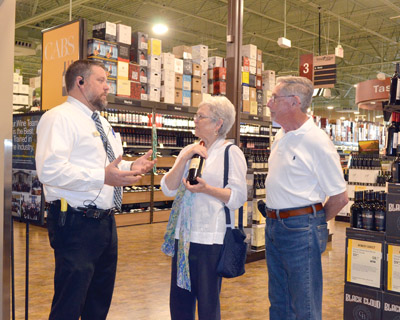 Brian Hollenbeck, left, answers Katherine Jones' questions at Total Wine & More's "soft opening" first day of business last Thursday, June 21. Also pictured is Katherine's husband, Harold Jones. Hollenbeck is just one of many out-of-state store managers and Total Wine & More employees who have helped ready the store for its grand opening, which continues through Sunday, July 1.

Total Wine & More opened in Turkey Creek at 9 a.m. last Thursday, June 21, and racked up dozens of sales in just the first two hours of a "soft opening" ahead of its official four-day grand opening this weekend.

At least a half-dozen customers were waiting for the doors to open Thursday morning, according to Brian O'Donnell, one of two Total Wine & More store managers at the Turkey Creek location.

"This has really been a great turnout," he said. "It is not even our grand opening, and a lot of people already have been checking us out."

"The response has been unbelievable," agreed Total Wine & More District manager David Hughes, whose territory includes stores in Georgia and South Carolina.

The new 30,000-square foot facility — located in the former HH Gregg store — has thousands of varieties of wines, beers and spirits, and is the first Total Wine & More store in the state.

Total Wine & More boasts more than 8,000 wines from all over the world, many of which take up roughly a third of the Turkey Creek store, with options to special-order anything not readily available.

Wine prices start around $3 per bottle, and "can creep up into the thousands" for high-end selections, Hughes said.

"We really do have something for everyone."

In that vein, the store also promises more than 3,000 kinds of beers, and more than 3,000 types of whiskeys, rum and other liquors.

Additionally, two sample tasting bars are centrally located, and a 50-plus seating capacity classroom lines the back half of the facility. Wine classes already are scheduled, and participants can sign up online for $15, $20 or $25 depending on the wine assortment chosen. The classrooms also are available to use for community groups free of charge, O'Donnell said.

Total Wine & More doesn't just offer the stunning array of adult beverages alone — it also has a large assortment of glassware, refrigeration units, mixers, non-alcoholic beers and a wide range of cigars in a walk-in humidor.

"The market needed something like this because there is nothing like it here," O'Donnell said.

The sheer variety seemed overwhelming for some of Thursday's patrons.

"I had one (customer) tell me, 'you could spend two hours in here,'" O'Donnell said. "Which really is nice. This is the fun part — to create the experience for our customers.

"And, we want to take time with our folks," he continued. "Price, substance and service are all hallmarks of our company, and our customer service and (employee) training are what sets us apart.

"We want to be part of the community and recognize our customers. It is important for us to say 'Hi' when they come in the door," O'Donnell added.

"The community deserves that."

"I have never seen anything like it before," said Katherine Jones, who also visited the store early Thursday, along with her husband, Harold.

The Joneses were assisted by Brian Hollenbeck, a Total Wine store manager from Florida who had traveled north to help open the Turkey Creek location.

George Southworth said he had visited a Total Wine & More store in Virginia and was "glad to see it come here" while he shopped Thursday morning.

The Turkey Creek store is its 182nd and newest location, said O'Donnell, who has relocated to the area from Florida.

O'Donnell noted he helped open Total Wine & More's 51st store when he started working for the company, and now helping open this latest location "is pretty cool."

Regular store hours will be 9 a.m. to 10 p.m., Monday through Thursday; 9 a.m. to 11 p.m., Friday and Saturday; and 10 a.m. to 8 p.m., Sunday.