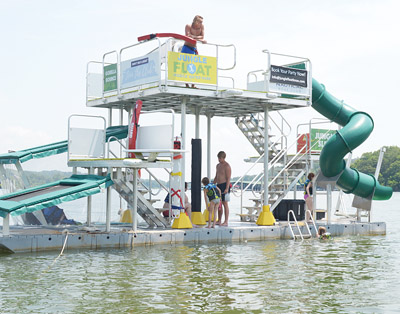 Families enjoy a day on the water jumping off "Jungle Float," a floating jungle gym at Rocky Point in Concord.

Scott Payne, owner of Jungle Float, has brought water entertainment to Fort Loudoun Lake in Knox County.

He started Jungle Float — a 34-foot long, 14-foot tall, 12-foot wide floating mobile water park on the Memorial Day weekend.

While it is housed at Concord Marina, Jungle Float is taken to Rocky Point Park, located near the roundabout at Northshore Drive and Concord Road, for the public to use from 11 a.m. to 7 p.m. every day but Tuesdays, assuming weather permits. "(Sessions) are all by the hour," Payne said.

The watercraft, which accommodates 30 people at a time, offers two different heights of trampolines, two different heights of jump platforms, a water slide and a rope swing.

While the trampolines are "the rush," he said Saturday, June 9, there is "something on there for everybody.

"We've had (swimmer) from 4 years of age up to some in their 60s," Payne added. "It been very well-received. We've had more than I expected.

"Every day we get more and more participants. I think today will be our best day yet."

Even with the rain on Memorial Day weekend, Payne said, "We still had about 70 people (using the Jungle Float) for those three days."

Swimmers can pay for open swim or book Jungle Float for a private party for an hour.

"But we don't travel with it, so we don't take it across the lake to different houses or (other) different locations," he said. "We will always be here in Concord Park area."

Payne also is co-owner of Nautical Boat Club, which is a separate, independent venture, at Concord Marina, so Jungle Float users do not have to be members of Nautical Boat Club.

"You just go to our website at junglefloatknox.com, and you can pay for your ticket there. You can sign our waiver then show up and swim," he said.

"Having Nautical Boat Club, our passion is to get people out on the water, cultivating relationships through life on the water," Payne added. "So, Jungle Float gave us an opportunity to get even more people out at an affordable price.

Jungle Float designs, builds and sells out of Chattanooga.

"We saw it on Facebook and had an opportunity to purchase one," Payne said. "We thought it would complement the boat club well and get more people on the water.

"The thing about Jungle Float is you don't have to be on a boat (to get to the watercraft)," he added. "You can come by car to the location."

Payne chose Rocky Point Park lake access because he felt using Rocky Point would allow him to control the crowd a little better.

"We looked at doing [Jungle Float] over at The Cove at Concord Park," he said, but added there were concerns for the boats passing by, creating waves that would move Jungle Float quite a bit, and crowds at The Cove.

"When people come to Jungle Float, they're coming for Jungle Float versus over The Cove, [where] we might have random people swimming out (from The Cove)," he said.

"You've got so much activity," Payne added.

"Plus, the depth of the water by The Cove is questionable."

To keep watercraft close enough to the shoreline, Payne said he needs a minimum of 10 feet deep.