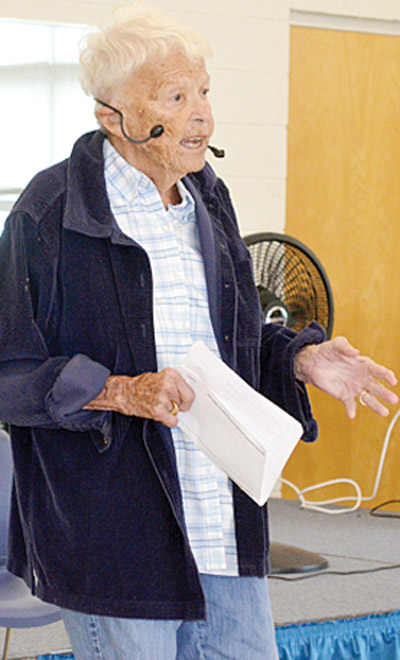 Evelyn Yeagle, 85, leads a line dance class at Frank R. Strang Senior Center, showing moves she has honed spanning the last 25 years.

Evelyn Yeagle never seems to slow down.

The 85-year-old line dance instructor is a firecracker of movement, whether demonstrating specific dance steps or just cheering on her students who try their best to keep up.

Yeagle, accompanied by her husband and D.J., Tom Yeagle, teaches weekly line dance classes at Frank R. Strang Senior Center, and similar classes at Karns Senior Center and in Lenoir City.

On a recent Wednesday at Strang Center, 12 women were following her lead — down from more than 20 students Yeagle typically has during that time slot due to the Memorial Day holiday, she said.

Spry and sporting a shock of white blonde hair and red cowboy boots, she and the class moved to contemporary dance music which her husband cued up at her command.

"We gave up country music a long time ago," she said of their preferred music genre.

Yeagle herself got a late start in line dancing. She and Tom began the past-time when she was 60 years old and they lived in Michigan.

"I stuck with it," she said. "I love it."

The couple, who have been married for 61 years, had tried ballroom dancing at one point, but it did not suit the pair as much as line dancing did, Yeagle said.

Not only did Yeagle enjoy the activity, but she also had a yearning to teach, too, which she began around that same time frame.

When the Yeagles moved to East Tennessee 16 years ago, they couldn't find any line dancing classes they could teach, she said, noting that Tom leads classes, too. Undeterred, Yeagle worked with a local program to secure a grant, and was able to start teaching the classes at Strang nearly 16 years ago.

The classes quickly caught on, and the couple has only added to the roster. Now they lead so many, they are busy almost every day of the week.

Yeagle, who said she has no health problems herself, does admit to sometimes getting tired, but said planning is sometimes a bigger hurdle than the physical activity.

"The biggest thing is prepping for classes," she said, noting that she spends most Sundays learning new dances and putting the moves to the music on her ipad.

This effort she puts in really sets her apart from other instructors, she said, because "most don't change much about the steps or the music, but that is what is different about our program."

Another difference is Yeagle's concern for her students.

"I call everyone if they haven't been coming," she said.

Yeagle said the classes are beneficial in more ways than one.

"When you see what they accomplish, and the health benefits, and the friends they make — and you can tell how much fun they are having, just by watching their faces — it really is great.

"A lot of our dancers make friends [with each other], so there is the social aspect of it, and some of them have started going out dancing together [outside of class].

"That's really great, because it is no fun sitting at the house and watching TV."

She especially emphasizes the activity aspect of the program.

"Exercise is the No. 1 activity that stops the progression of Alzheimer's and dementia," she said. "I tell them to get out and move — it is like putting their foot on the gas pedal of a car."

It is great analogy for Yeagle, too, who keeps moving and leading the way for area seniors to do the same.