The late legendary 'Voice of the Vols' had a colorful garden hobby, as told in '04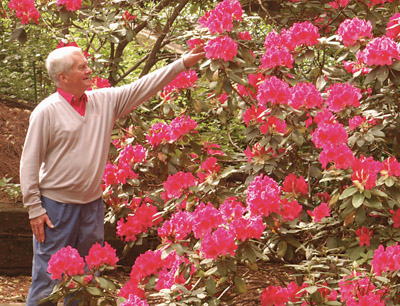 John Ward exhibits his brightly colored rhododendron, which spread down one bank of his front yard.

In tribute to the legendary "Voice of the Vols," the late John Ward, farragutpress goes back to May 2004 and a story by then general assignment reporter Leslie Tucker highlighting another of his talents: growing a vast array of colorful flowers and plants at his Fox Den home along the golf course's No. 1 fairway..

If legendary "Voice of the Vols" John Ward said, "It is an exhilarating experience," would you assume he was reflecting back to his days (actually more than 30-years) as play-by-place voice of University of Tennessee Football and Men's Basketball games?

Instead, John spent an hour giving a tour of his extensive, lush gardens. He discussed orange impatiens, not "Big Orange" wins.

He talked about Virginia bluebells, not his favorite Tennessee Men's Basketball victories; and lady slippers, not the Lady Vols.

John is humble about his famed career and about his impressive garden.

Like sitting in the press box in Neyland Stadium describing the action with his famous phrases, John obviously was in his comfort zone strolling through the paths in his garden, which dominates his front and backyards.

Ironic that John's backyard stretches along No. 1 fairway of the Fox Den golf course, since he has no grass in his yard.

When John built his home, he made it perfectly clear he did not want any grass-filled lawn.

"I don't have the patience to grow grass," he said.

For someone who doesn't think he can grow an impressive lawn of grass, John's garden boasts an impressive spread of annuals, perennials and biennials.

Much of his yard is shaded by tall trees. The canopy creates an atmosphere perfect for wandering through the woods — fitting since John enjoys spending time hiking. He doesn't mind the dilemma that shade can create in a garden; he often moves plants around, testing the amount of sun and drainage needed for each.

During his stroll, as the sun peeked through the clouds illuminating one of his prize azaleas, John said, "That's what all this is all about, seeing the sun right here right now."

Some of the other gems in his garden include: phlox, rose of Sharon, a Lenten rose, which blooms before Lent, jack in the pulpit, hydrangea and various wildflowers.

For such an elaborate garden, John said he doesn't plan where he plants. And he has freely placed birdbaths, subtle paths and water features — along with benches here and there for respite while enjoying the many views of the garden.

There are statues peeking up through the growth and a colony of birdhouses he said Joe Luna built for him. Another neighbor who contributed to John's garden once lived across the road. "When Mrs. Potter moved, she told me to go get anything I wanted out of her yard," he said. He chose a hydrangea. "It was a magnificent plant," John said.

Now planted throughout one section of his garden, he said, "I got seven plants from one."

As one of the first residents of Fox Den, John decided in 1993 to increase the size of his "canvas," so he and wife, the late Barbara Ward, purchased two lots adjacent to their home. His garden grew to almost four acres. John said the lot was overgrown and he had to clear it of not only brush, but garbage. He didn't complain. "It made the soil richer," he said.

One of the plants flourishing in the rich soil is a Burning Bush, which John said has grown tremendously over the years. What makes the plant striking and unusual is its bark which "becomes vivid red in the fall," he said. "People are amazed by it."

Another stunning plant is the Japanese maple that greets guests at the front door. From October to May, pansies are planted along the road at John's front entrance. In May, they are replaced by impatiens. He plants orange and white in that visible spot because he said, "I used to call those ballgames, you know."

He likes to order his rhododendron from Oregon and said in Scotland, "they grow like weeds." British Columbia, another one of the Ward family vacation spots, also is a place to find healthy rhododendron.

John's garden often is a source of enjoyment for the public. He allows senior citizens groups to tour his garden and, when featured as a private garden in the Knoxville Dogwood Arts Festival, John permitted crowds to wander through his yard. He enjoys answering questions about his plants though he admits he still has much to learn.

Be that as it may, John's beautiful garden speaks for itself.