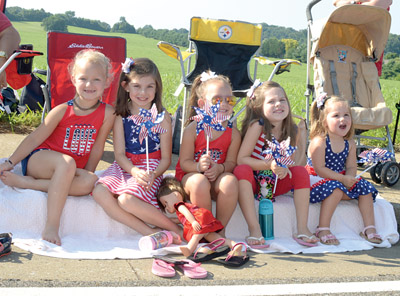 From left, Emma Arnold, 6, Madison Madoni, 7, Leah Arnold, 5, Sydney Madoni, 5, and Reagan Madoni, 3

From infants and toddlers to senior citizens and local celebrities, thousands enjoyed Town of Farragut's 31st Annual Independence Day Parade — either as entries or as spectators — along Kingston Pike Wednesday morning, July 4.

The 95-degree temperature didn't deter spectators, who simply raised tents and enjoyed refreshments as they watched the parade pass.

Highlighting scores of entries were six military veterans who collectively served as grand marshals: Allen Sizemore and Scott Johnson (Army), Tom Peck (Navy), Larry George (Marines), Bill Robinson (Air Force) and Gary Brammer (Coast Guard).

For more photos from this event, please see Westside Faces in our print edition.