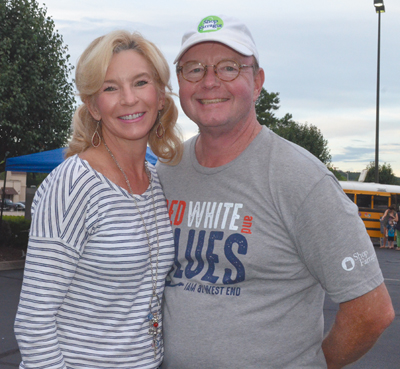 Lori Timmis, Farragut resident and farragutpress receptionist, and Steve Krempasky, executive director of Shop Farragut/Farragut Business Alliance, which hosted the event.

The patriotic spirit continued in the days following Independence Day, as Shop Farragut/Farragut Business Alliance hosted "Red, White and Blues Jam II" presented by SouthEast Bank in West End Center Saturday, July 7.

A collection of regional blues bands played standards and original works throughout the day at the free event, which also brought food vendors and beer and wine sellers to serve the crowds.

Local churches also supplied fun outdoor games including open-air bowling. Bubbles were free-flowing.

Steve Krempasky, Shop Farragut/FBA executive director, said the event "was triple the crowd that we had last year," while labeling the addition of various new vendors a "really a big hit."

For more photos from this event, please see Westside Faces in our print edition.