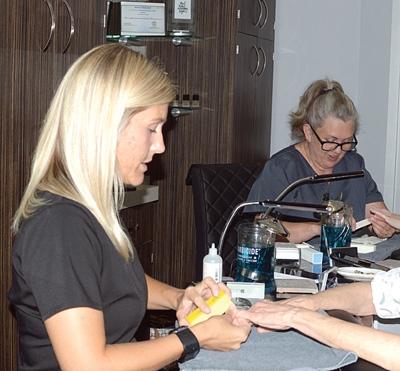 Partners Molly Jacobs, left, and Christine Pittman combined their skills to open Nailvana, 11324 Parkside Drive, June 1.

Molly Cobb of Loudon and Christine Pittman of Karns have partnered to bring clients to Nailvana.

The two opened their new venture in Turkey Creek's Sola Salons, 11324 Parkside Drive, June 1, offering spa manicures, pedicures, gel polish and artificial nails.

"We're super excited," Pittman said. "We have worked hard and are ready to see the whole thing come together and bring nail services to Turkey Creek Sola Salons."

Cobb and Pittman became good friends when they worked together at a corporate day spa.

Both women have done nails for more than 16 years, and between 2013 and 2015, Pittman was a salon owner in another Knox County location. 

The idea to form a partnership came out of a random conversation that started with "what if?"

"The desire to step out on your own is very intimidating, but it is much easier when you have a trusted friend with the same goals, work ethic and business standard," Pittman said.

Still, she said their "clients wanted a different environment than what was available where we were previously working, closer to where they live/work/worship; and we both needed to be closer to our homes."

When they found Sola Salons, Pittman said the appearance and location in Turkey Creek was "perfect for a start-up nail salon."

And, the partnership is perfect for Cobb and Pittman, she added.

"This was as simple as any aspect of the business," Pittman said. "We get along well, have worked together previously and know each other well.

"We are like-minded and have the same goals," Pittman said. "We were trying to come up with a name symbolic of our personalities and the atmosphere we want in our salon.

"Having worked for corporate spas and in other types of environments, we really wanted something that speaks to those wanting a quiet and relaxing atmosphere where they could be themselves," she added. "Nirvana for nails ... Nailvana. It had a nice ring to it, and it said what we want to convey."

Nailvana is open from 10 a.m. to 7 p.m., Wednesday through Friday, and from 10 a.m. to 3 p.m., Saturday. It is open Monday and Tuesday by appointment only.

To book an appointment, contact Pittman at 865-437-9532 or e-mail her at christypittman2010@gmail.com/. Contact Jacobs at 865-200-2980 or by e-mail at mpc.nails@gmail.com/.