Horne, new TPA prez, sees his effort to include free-distribution non-dailies in TPA end with 24 top-3s in 1st try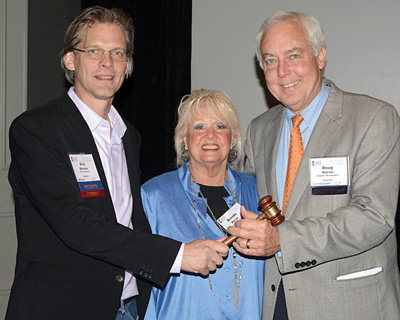 Doug Horne, right, takes the ceremonial gavel after assuming presidency of Tennessee Press Association from former president Eric Barnes (publisher, The Daily News, Memphis) during Tennessee Press Association Summer Convention Thursday evening, July 12, in Franklin Marriott Cool Springs. Horne, prominent real estate developer/businessman and owner of Republic Newspapers, Inc. (parent company of farragutpress) is joined by his wife, Brenda Horne.

Respected and successful enough as a business leader to have the ear of former U.S. Presidents Barack Obama, George W. Bush, George H.W. Bush, Bill Clinton and Jimmy Carter, Doug Horne helped get the ear of Tennessee Press Association in 2017.

One key result of such persuasion — with farragutpress' acceptance into TPA — is 26

awards earned in its first year of eligibility.

"We were the first suburban free-distribution newspaper accepted into Tennessee Press Association," said Horne, who helped lead the fight as TPA vice president for Non-Dailies. He is owner of Republic Newspapers, Inc., parent company of farragutpress.

"We've been working on that for years, and we finally got it accomplished," he added.

After taking the gavel as TPA president at its Summer Convention in Franklin last week, Horne said, "We were very excited and overwhelmed about the 26 Tennessee Press Association Awards we received for both advertising and news." Those winning and high-placing submissions were from 2017 farragutpress editions.

Twenty-three of those awards — including nine first-place — were submissions for the Ideas Contest, and awarded on day two of the convention, from the combined efforts of farragutpress production and advertising departments.

As a result, Horne labeled Friday, June 13, "a great day in Franklin."

"Tony (Cox, publisher and Republic Newspapers president) and all the staff have done a wonderful job," Horne added.

Production manager Tony Christen and designer Cindy Wilfert joined forces with advertising — led by manager Sherry Long and account executives Peyton Hairston, Charlene Waggoner and Laura Sayers — as contributors to the 23-awards effort.

"I'm just thrilled and excited. I've known for a long time that farragutpress did wonderful work for the community and all its customers," Cox said. "The fact that we won 23 awards is based off the work that was done by the account executives working with their customers, and our production team taking that information and really adding the creative touches.

"It's truly a rewarding and validating feeling that I have, to be recognized by our peers and other press associations," he added.

The nine first-place Ideas Contest awards came in the following categories: Professional Service Ad; Feature Page or Pages; Reader Contest; Classified Section; Automotive Ad; Food Store Ad; Use of Multi-Color Ad; Special Section; and Promotion for a Retailer. (See illustration of all Ideas Contest awardees, page 3B).

Seven second-place awards: Automotive Ad; Feature Page or Pages; Furniture or Appliance Ad; Black & White Ad; Professional Service Ad; Promotion For a Retailer; and Special Section.

Seven Third-place awards: Professional Service Ad; Use of Single Color Ad; Black & White Ad; Feature Page or Pages; Reader Contest; Marketing Materials; and Quarter Page or Smaller Ad.

Editorial department came away with three TPA awards, led by a second-place finish in Best Business Coverage. Tammy Cheek, general assignment reporter, was a key contributor to that section.

Editorial also earned fourth-place awards in Make-Up & Appearance and Best Sports Coverage. Alan Sloan is editor. Michelle Hollenhead, general assignment reporter, contributed to the overall editorial effort.

Horne officially "took the gavel" as president from now former president Eric Barnes (publisher, The Daily News, Memphis) during the Convention Banquet Thursday, July 12, in Marriott Cool Springs.

"Doug Horne has been an incredible supporter of the Press Association and has been incredibly supportive of me over the years, and the board," Barnes said during his address prior to passing the gavel.

"He's committed an amazing amount of time," saving TPA "a tremendous amount of money. It was above and beyond as we were rebooting and retooling. To take that expense out was an amazing thing," Barnes added.