With ribbon cut July 10, Hardin Valley middle schoolers have new home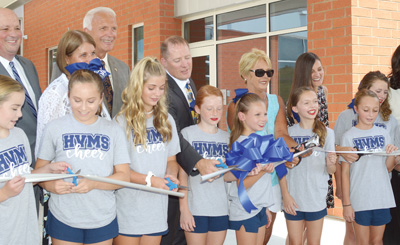 Knox County Schools officials joined other county brass and Hardin Valley Middle School cheer team in cutting the ribbon on the new school, 2280 Steele Road, Tuesday afternoon, July 10. Cheer members on hand to cut the ribbon, in no order, were Lily Swenson, Ashlee Ferguson, Kennedy Crateau, Savannah Cody, Megan Waters, Mia Holloway, Avery Stringfield and Emma Johnson (not pictured is cheerleader Ava Hawk). In back, from left, are 6th District Knox County Commissioner Brad Anders; District 6 Knox County Board of Education member Terry Hill (Hardin Valley area rep); KSC superintendent Bob Thomas; HVMS principal Dr. Cory Smith; School Board chair Patti Bounds (District 7) and District 5 School Board member Susan Horn. Not pictured is 1st District Commissioner Evelyn Gill.

Hardin Valley community's dream came true Tuesday, July 10, when families joined officials in a ribbon cutting for the long-awaited Hardin Valley Middle School, 2280 Steel Road, to bridge the gap between the community's elementary school and Hardin Valley Academy.

"On behalf of our staff, community members and our students, welcome to the new Hardin Valley Middle School," HVMS principal Dr. Cory Smith said. "This is an awesome facility."

"Once you get inside, walk around and look at what it has to offer, you will be truly impressed," he added about the 175,000-square-foot facility. "We are very fortunate to have this opportunity."

Smith noted the facility is designed for students and teachers with a lot of hallways, spacious classrooms and a multi-media center.

"I think you will have many things to celebrate here," he said.

The effort to have a new middle school started with a Facebook post four years ago by a few Hardin Valley residents.

"It has been an honor to watch this (project) come from the ground and come to fruition," 6th District Knox County Commissioner Brad Anders said.

"I feel very blessed, at the beginning of this, that you all allowed me to come around for the ride," said Terry Hill, Knox County Board of Education District 6 representative, which encompasses the Hardin Valley area. "I was happy to advocate for you, but you were the ones that made this happen."

Hill singled out three who kicked of the project — Kevin Krateau, who organized the first meeting; Kim Frazier, who researched project; and Amanda Abshagen, who created the social media. "These folks were truly on the ground floor," she said. "It takes a village; it was a village that came together; and we are excited."

"Hardin Valley is one of the fastest growing parts of Knox County, and this school will be a great addition to support that growth," Knox County Mayor Tim Burchett said.

To open the ceremony Boy Scout Troop 246 raised the American flag, for the first time, at HVMS before the crowd recited the Pledge of Allegiance.