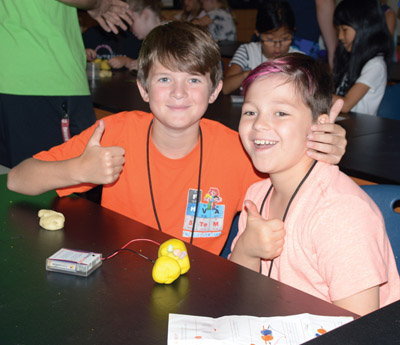 Hunter Lorussu, left, and Ian Butler, rising fourth-graders at Farragut Middle School

Hardin Valley Academy hosted Two Blues STEM Camp, during which 115 Knox County students from second through seventh grade — including Hardin Valley and Farragut "K-12" students — got a head start on their science skills June 18-22.

The camp gave students a chance to explore science, technology, engineering, math and health science with hands-on activities, all the while learning how to solve problems and work as a team. For example, during the June 21 session — Engineering Day — fourth- and fifth-graders remotely guided sphero robots, made windmills and squishy circuits and flew paper helicopters from a staircase.

For more photos from this event, please see Westside Faces in our print edition.