Long-time Lady Admirals assistant promoted to head coach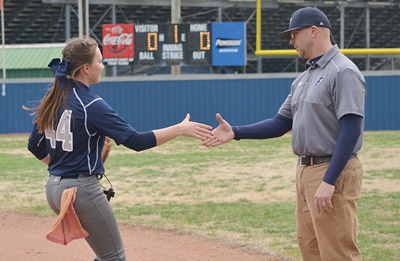 Nick Green, new Farragut High School softball head coach, greets then Lady Admirals senior Kelsie Tuggle as FHS assistant coach during the 2018 season.

Farragut High School's new softball head coach is a familiar face in the program.

Longtime Lady Admirals' assistant coach Nick Green was tapped to replace the legendary David Moore last week.

He was officially hired Tuesday, July 17, and must now schedule tryouts and name an assistant coach.

"It's a little nerve-racking right now," said Green, who has served as Moore's assistant for the last 12 seasons. "I'm sure that it will get better when we get on the field.

"We have to have tryouts sometime before school starts and then I'll have to hire an assistant and that may have to happen after school starts back," he added.

Green has coached softball his entire adult life. His coaching career began 19 years ago after he graduated from Bearden High School.

The 1998 BHS alumnus began as a volunteer assistant under former Lady Bulldogs head coach Mark Blevins.

Green spent seven years at Bearden before heading west on Kingston Pike to join Moore and the Lady Ads.

"I was always an assistant coach and I always just showed up to practice and worked with my position group," Green said. "I always just showed up and coached.

"Now, I'll have to do all the behind-the-scenes stuff like getting buses, scheduling and eligibility."

He also has some early decisions to make on the field.

"I'll have to decide which position group that I'll work with. I don't know if I'll stay with the outfielders or move to work with the infielders," Green said. "That decision will be determined by who I hire as an assistant."

While getting things in order could prove hectic, Green can lean on his former boss, as Moore will remain a teacher at FHS.

"Thankfully, David will still be there and he'll be right outside the door from me," he said.

Moore said he is willing to lend a helping hand.

"I will be here to help with the transition," he said. "Nick has done his time. He's a good coach, and he knows the girls in our program. He's also coached the middle school team over the past several years, so he knows the girls who will be coming in.

"He probably has more coaching experience, altogether, than any other coach in the league," Moore added.

Despite some early apprehension, Green said he looks forward to taking over one of Knox County's most successful programs.

"I look forward to being a head coach in (District 4-AAA)," he said. "You have some of the best competition. The district has changed. You have Nick Payne (as new coach) at Maryville.

"You have a new coach (Lindsay Rakes) at Catholic and she's one of my former players," Green added. "It should be pitching- dominated again and the district will probably come down to Farragut, Maryville, Hardin Valley, William Blount and Heritage.

Farragut athletic director Donald Dodgen said Green was a natural for the position.

"(Principal) Ryan Siebe and I are happy to have the opportunity to hire Nick Green as our next softball coach," Dodgen said. "We had some great candidates.

"But sometimes you have to take a step back and see what's best for our kids. Nick has had success with this program, along with David Moore. He'll be teaching in our building (math)," the school's AD added. "He understands softball. He understands Farragut and he understands Farragut softball."

Green has been married to his wife, Lisa, for 11 years. The couple has two daughters: Wesley, 8, and Kylann, 6.