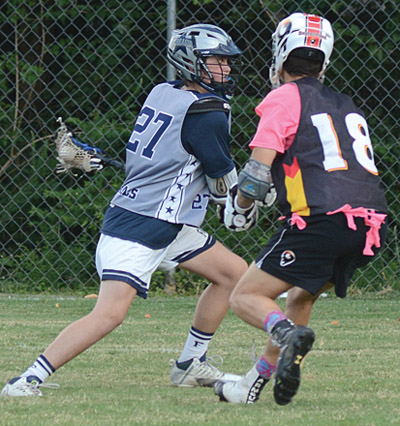 Nicholas Preiss (27), Farragut High School rising freshman defender, looks to move upfield against German pressure.

A lopsided loss couldn't spoil the opportunity of a lifetime for the players on Farragut High School boys lacrosse team.

The Admirals hosted Germany's Under-19 National Team Thursday, July 19, on their home field above Farragut Middle School.

Though losing 17-2, the Admirals certainly picked up some valuable game experience.

"I don't think this is indicative of the season that we're going to have, but it is indicative of what we have to work on and how much work we have to do," FHS head coach Taylor Clark said. "When you play Germany, you play the best of the best. These guys are good.

"They played a team of Tennessee high school all-stars down in Athens on Tuesday (July 17). Those guys played the best of the best in Tennessee and they beat them 19-5," he added.

Farragut scored its first goal late in the second quarter when rising senior attacker Tristan Damron tallied.

Damron picked up an assist when junior attacker Titus Chapman scored Farragut's second marker of the game with 5 minutes, 34 seconds remaining in the third stanza.

"We haven't been able to get together much," Damron said. "But it was great to play a team from a different country, and not just another team from the United States.

"Overall, it was a great experience for the team, and it was a great experience for me."

This German National Team was in East Tennessee as part of an East Coast Tour. The Western European powerhouse is preparing for the 2020 World Championships. Tennessee Wesleyan University (Athens) hosted the team during its stay in the Volunteer State. The Germans eventually will play in Boston and Baltimore.

While Clark said the game made FHS a better team, German National head coach Pete Desantis said his team took plenty away from the trip to Tennessee. "These last whole two weeks in Athens and Farragut have been great for our kids," he said. "Our kids have learned a lot culturally."