Rita Sciacovelli shares her native language by teaching others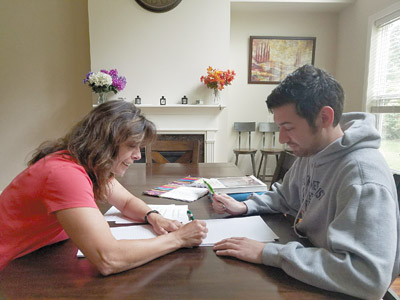 Italian teacher Rita Sciacovelli goes over a lesson with her current pupil, Knoxville Opera singer Frank Rosamond, who enjoys taking lessons from the Milan native.

You may take the girl out of Italy, but you can't take Italy out of the girl.

That has proven especially true for Rita Sciacovelli, who was born in Ferrara, Italy but who married an American and moved to the United States in 2006.

However, she has managed to maintain her heritage and sharing a love for her native language by teaching Italian from her Farragut home.

She met her husband, William "Bill" Richardson, when he was working in Italy, and the couple married shortly thereafter, with Italian custom dictating that Sciacovelli not change her last name.

Both the couple's children, Mark, now 14, and Marie, now 11, were born in Italy before Sciacovelli made the decision to move to the United States. Her husband had moved back already, but she said it took a little time to commit to leaving the country she loved.

Becoming a U.S. citizen was not exactly the culmination of a life-long fantasy for Sciacovelli.

"A lot of Italians dream to come here, but not me," she said recently over coffee.

Sciacovelli said the American culture was a "360-degree jump" for her.

"The language, the food, religion," she added. "When I came here, I was confused and found it difficult to (find others to) share my experiences with. I didn't work, and felt lonely, with just the kids during the day."

Sciacovelli had been a teacher in Italy, where, ironically, she worked with young Italian immigrants to help them assimilate and learn the language. Eventually she was able to work in the same field in the United States, teaching Italian at a foreign language academy.

"One of my students followed me to continue studying with me (when I left that job)," she said, and a secondary career was born.

She acquired another student, originally from Spain, who wanted to learn Italian, too.

"Every summer they went to Sardenia and wanted to better converse," Sciacovelli said.

She currently has only one student, Frank Rosamond, an opera singer with Knoxville Opera. He also is interested in being able to converse at a higher level when he visits Italy, she said, which ties in well with her teaching style she describes as "conversational."

She teaches the language either in her home, at a cost of $15 per lesson, or at her student's home or other location, for $20 per lesson.

Sciacovelli said typically she only has a maximum of two students at a time, preferring to work one-on-one.

She still misses Italy, and has only traveled "home" four times since moving permanently to the United States.

There, her entire family resides, including her 98-year-old mother, who still rides a bicycle and lives in her own home.

Sciacovelli said she relies a great deal on Skype to communicate and keep up with the country she may have left — but one that has not left her.