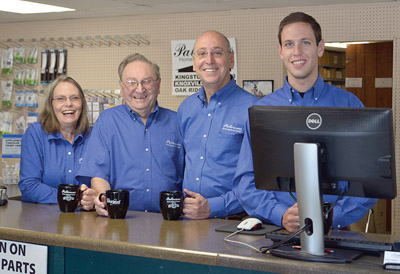 The Patterson family, which has operated area stores for more than 50 years at five locations, includes from left, Elaine Patterson, office manager and wife of Steve Patterson; founder Don Patterson; his son, Steve Patterson, president; and Elaine and Steve's son, Mark Patterson, vice president and operations manager. All four pledge to continue the level of service they have been providing for a quarter of a century at the 10640 Kingston Pike location just outside of Farragut.

As Pattersons Home Appliance Center celebrates the 25th anniversary of its 10640 Kingston Pike store, located just outside of Farragut Town limits at the Lovell Road/Kingston Pike intersection, co-owner Mark Patterson (third generation) said the business "is here to stay."

This store opened its doors July 12, 1993.

"We try to use our business to honor God in what we do by respecting others," said Mark Patterson, who has learned the business under his father, Steve Patterson, and grandfather, founder Don Patterson.

"Steve is not bashful about his Christianity, nor am I."

While Pattersons Incorporated has been around for 53 years, the 25 years Pattersons Home Appliance Center near Farragut has been in existence "gives us credibility to our customers to be able to say 'Hey, this is not our first rodeo'," he said.

"We're professionals in what we do; we've been doing this for a long time; it kind of gives us that trust with that customer."

The Pattersons not only sell kitchen appliances along with washers and dryers, they also service them. Mark Patterson said the company focuses on selling one brand of appliances — Whirlpool — to provide quality in its level of service and take better care of their customers.

Within Whirlpool, the company provides four other major brands — Amana, Maytag, Jenn-Air and KitchenAid.

The youngest Patterson said the home appliance business "has grown quite a bit through the years," as Farragut and West Knox County has grown.

"West Knoxville, in general, has exploded and definitely moved westward toward us," he added. "My dad had a lot of good insight into location, as far as growth potential, and it's really kind of blossomed into a really awesome part of the Knoxville community.

"There's no way we could afford that location today if we were to try to buy it, just because of how much growth has come into that area. Knoxville has really supported us."

The Farragut area store started in one building then grew to have two buildings, of which one, Mark said, "is the best showroom of all of our stores as far as quality, high-end products and most knowledgeable staff in the area."

While Mark Patterson officially started working in the store when he was 14, he recalled he started with the company much earlier.

"They put me in a dryer for the newspaper and (the ad) said, 'Come on down and buy your appliances, so I guess I started advertising for them when I was 2,'" he recalled and laughed.

The Farragut area store is one of five in East Tennessee.

Don Patterson started the business in 1965 with a refrigeration store in Harriman in Roane County. "We moved into appliances quickly after that," Mark recalled. Pattersons added a store in Oak Ridge; a scratch-and-dent and closeout outlet in Rockwood; and signed a lease in June for a new Crossville location.

Stores are open from 9 a.m. to 6 p.m., Monday through Friday, and from 9 a.m. to 4 p.m., Saturday.

For more information, call 865-694-4181.