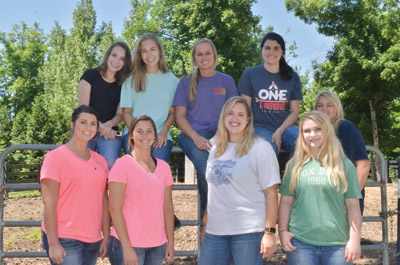 Volunteers who helped Natalie Fletcher, center top row, with her annual Rodeo Camp included, top row from left, Rachel Forrest, Alex Forrest, Courtney Bell and Jennifer Johannes. Front row, from left, are Abbey Best, Kaytlyn Franklin, Jessica Hughes and Lauren Fannon.

Concord Sailing Center, located along Northshore Drive on the banks of Fort Loudoun Lake, held three weeks of Sail Camp earlier this summer. Right at 150 children and high school-aged campers learned the basics of sailing on a variety of vessels. The demand was so high, campers were turned away for the first time during the camp's nine-year history.

Also earlier this summer, more than two dozen young cowboys — and cowgirls — did a lot of ropin' and ridin' during Rodeo Camp at Lakeside Stables.

Local and regional rodeo competitors — and sisters — Natalie and Lucinda Fletcher hosted the camp on their family property, located just across Northshore Drive from Davis Family YMCA. With the help of nearly a dozen volunteers, youngsters had a chance to bond over barrel racing, pole bending, goat tying and roping while also learning the basics of horse grooming and care.

Natalie said one of their goals was to help campers learn about compassion and respect for the sport and the animals, and she saw a lot of evidence of that from the start.

During the first week alone, Natalie said she could see the campers "be more worried about taking care of the horses rather than themselves.

"We have a really good group of kids."

For more photos from this event, please see Westside Faces in our print edition.