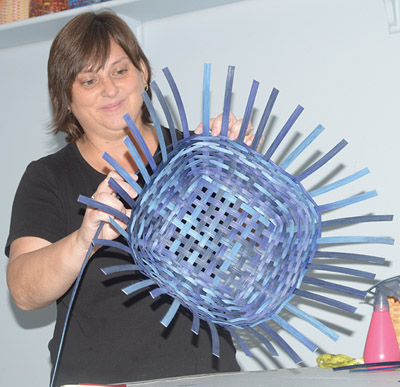 Local basket weaver Sheri Burns weaves one of her baskets in her studio. A variety of her work is on display in an exhibit, which began being featured in July and continues through August in a special case on the second floor of Farragut Town Hall.

What started as home-school studies on Appalachia for Sheri Burns' four children 15 years ago has evolved into an art form for the now avid basket weaver.

Once she discovered basket weaving, Burns set aside her other pastimes — crocheting and knitting — to make baskets. Since then, she has become an accomplished basket weaver, who also teaches the art and sells her works.

Beginning in July and running through August, a wide variety of Burns's works have been on display in Farragut Town Hall.

Burns had home-schooled all four of her children when they were young. A nurse by trade for 28 years, she worked weekends so she could be at home with her children during the week.

"We were doing an Appalachian history unit," she recalled.

"We were doing a lot of hands-on things," Burns added. "We were making apple butter, and we made lye soap."

One day, she saw a basket class being offered.

"It was an Appalachian-style ribbed basket called a hen basket," she said. "I went to that class thinking 'this will be great.' It was so much fun, so I came home, I bought reed and dyed each kids' reeds in their favorite colors. Then, we made baskets."

Burns enjoyed the project so much she kept making them.

"So, all my family — and friends at work — got baskets for Christmas, birthdays," she said and laughed.

Burns uses rattan reeds from a rattan palm, which grows in the rainforest. She also has used watercolor paper, honeysuckle vine and pine needles to make her baskets.

"I've tried a lot of different things," she said, showing one basket with a pastry cutter handle and another using a potato masher.

However, Burns noted rattan is easy to get, can be dyed different colors and can make a lot of different types of baskets. She has made Appalachian-style, traditional ribbed baskets and decorative paper baskets, among others.

"I like just a good, sturdy work basket," she said. "It's really my favorite type of basket to make."

Burns sells her wares at the Appalachian Arts Center in Norris, where she is a member of its craft guild and teaches classes. She also is a member of Tennessee Basket Association and teaches classes at Pellissippi State Community College's Hardin Valley campus, with a class starting in the fall; a class at The Hen House in Coryton; and occasionally a class at Circle Assembly of God in Blaine.

"Each month, the work of an artist or group of artists is featured in specially-designed cases on the second floor of the rotunda in Farragut Town Hall," stated a Town press release.

Farragut Town Hall, 11408 Municipal Center Drive, is open from 8 a.m. to 5 p.m., Monday through Friday. For more information, visit townoffarragut.org/artsandculture or contact Brittany Spencer at ParksandRecInfo@townoffarragut.org or 865-218-3378.