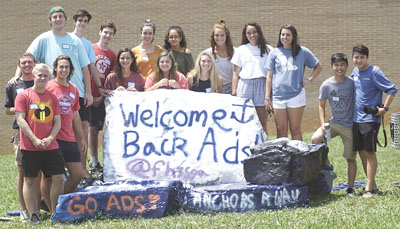 FHS SGA seniors painted "The Rock" on the grounds adjacent to Lynn E. Sexton Gymnasium to welcome back students for the 2018-19 school year. Front row from left are Dillon Bihlmeyer, Aaron Smalling, Katie Lin, Priya Nangia and Vanessa Binder. Back row, from left, are Will Thorley, Will Ward, Josh Beaver, Jared Martin, Karlyn Simcox, Diba Seddighi, Rylie Richardson, Rebecca Fisher, Alyssa Cuevas, Mun Choong and Julian Ragos.

Rebecca Fisher, Farragut High School student body president, said she was "inspired by leaders within the community that I had the honor to meet and listen to through Youth Leadership Knoxville."

As a result, "I created the Farragut Leadership Series" during the 2017-18 school year, said Fisher, a senior who also is part of the school's Student Government Association.

"This year, we are honored to have Director Rausch, (director of) Tennessee Bureau of Investigation, and Sharon Pryse, CEO of the Trust Company, to speak as part of the Leadership Series on Tuesday, Aug. 28 and Tuesday, Oct. 2, respectively," in Vickie B. Wells Auditorium, she added.

These events are open to FHS students, faculty and staff only – no public admission.

"Ultimately, I would love the Series to be open to the public, but under the discretion of the administration," Fisher said.

In its inaugural year, FHS featured speakers were "Knox County Mayor Tim Burchett and (then) University of Tennessee Chancellor Beverly Davenport," Fisher said.

During the school's annual SGA Summer Day, held Tuesday, July 31, "members of SGA meet to bond and prepare for the upcoming school year," Fisher, an SGA member, said. "This year, 60 SGA representatives discussed the plans for the upcoming year, participated in a scavenger hunt around the school and created banners to welcome Farragut's students back to school."

SGA Class of 2018 also painted greetings on "The Rock" adjacent to Lynn E. Sexton Gymnasium.