Williams to be 5th Town mayor; Hill: special alderman election is needed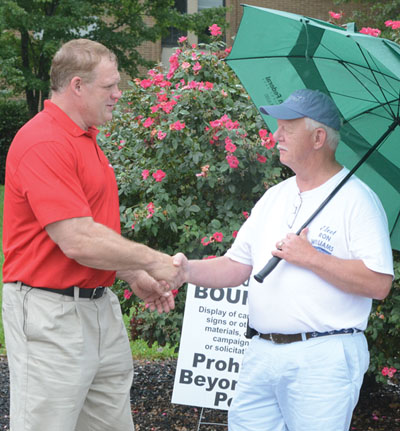 Glenn "Kane" Jacobs, left, mayor-elect of Knox County, greets Ron Williams, mayor-elect of Farragut, while both did last-minute campaigning at Farragut High School precinct on Election Day, Thursday afternoon, Aug. 2.

Acknowledging a sense of relief that his successful campaign to become the fifth mayor in Town of Farragut history is over, Ron Williams added, "We can return to civility now."

Williams, a sitting Town alderman only midway through his first term, defeated fellow Alderman Robert "Bob" Markli by less than 300 votes (3,028 versus 2,765 — 52.27 percent versus 47.73), according to "unofficial" Knox County Election Commission vote totals culminating with the Thursday, Aug. 2, election.

"I would like to thank the Farragut voters for their confidence in electing me their next mayor," Williams said.

The mayor-elect will join re-elected alderman and interim Mayor Ron Pinchok (South Ward), newly elected North Ward representative Scott Meyer and the Town's other North Ward alderman, Louise Povlin, on the new Board, which will be sworn into office Thursday, Aug. 23. The new Board will preside over its first meeting that evening.

As for the South Ward alderman to take Williams' place for the next two years, the Board will accept applications, which will be made public, before BOMA votes on the new representative "before the end of September," Williams said.

However, Robin "Bob" Hill, former Knox County Commissioner and ex-chair of Farragut Municipal Planning Commisison, stated in an e-mail to farragutpress he will "ask the Board of Mayor and Aldermen of the Town of Farragut to have a special election for the South Ward to fill the seat vacated. ... This asking will occur in the Citizen's Forum portion of the Aug. 9 Board meeting.

"The election can be held on Nov. 6, along with the general election for state and federal officeholders," he further stated.

Hill did acknowledge the Town Charter might prevent a special election.

Williams confirmed that, referencing "Section 6-3-107, that's in our Charter." He then quoted 'B-1' of the Charter, saying, "'By affirmative vote of the majority of the remaining members, the Board shall fill a vacancy in the office of alderman for an unexpired term. ...'"

As mayor, Williams' choice would break a 2-2 tie.

The new Board also will select one of its aldermen for the dual role of vice mayor.

Looking back, "I want to thank my wife, T.C. Williams, and all the volunteers who worked very hard to support my election," Williams said. "We had 84 subdivisions ... myself and 15 other people worked all those subdivisions.

"And I had to battle all the incorrect ads and articles that were written," he added.

In other local races, for Knox County mayor it was Glenn "Kane" Jacobs, a Republican, easily defeating Democratic nominee Linda Haney. Current Knox County Mayor Tim Burchett defeated the field, including state Rep. Jimmy Matlock, in the GOP 2nd Congressional District primary. He now will face Renee Hoyos, Democrat nominee in a landslide, in the Tuesday, Nov. 6, general election.

In the state House District 14 Democratic primary, Justin Davis defeated Alex Dunn Jr. and will face incumbent Republican Jason Zachary in November.

A Farragut precinct breakdown of Markli versus Williams plus other key Aug. 2 election results in those precincts follows:

(66-North, Farragut Middle School/Farragut Intermediate School) Williams had 1,570 votes (52.72 percent) versus Markli's 1,480 (47.28); in the 2nd Congressional District GOP primary, Jimmy Matlock, despite losing to Tim Burchett, led with 1,173 votes versus Burchett's 1,041; in the GOP gubernatorial primary, Randy Boyd, despite losing statewide to Bill Lee, led with 1,103 votes versus Lee's 668 and 453 for Diane Black; with 223.

(66-South, Farragut Town Hall) Williams collected 1,455 votes (51.76 percent) versus Markli's 1,356 (48.24); (GOP Congress) Matlock edged Burchett 1,038 versus 988, with Nickloes getting 234; Boyd had 939 GOP gubernatorial votes versus 611 for Lee and 406 for Black; (Democratic state House 14) Dunn, by only one vote, topped Davis 300 versus 299.

(65-North, Farragut Primary School)

Only four votes cast for Farragut mayor, with three going to Williams; (GOP Congress, 2nd) Burchett led with 703 votes followed by Matlock with 573 and Nickloes 169 (11.33); (GOP gubernatorial) Boyd had 601 votes followed by Lee's 383 and Black 276; (Democratic state House 14) Davis had 269 versus Dunn's 221.