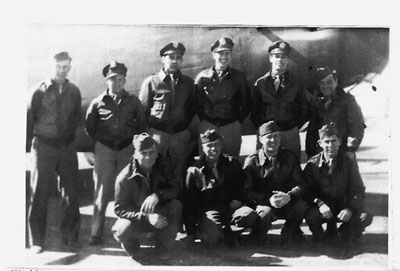 World War II veteran James "Bud" Mynatt, standing fourth from left, posed with other members of the 848th Squadron of the 490th Bombardment Group after completing B-24 Combat Crew training at Mountain Home Army Air Force Base, Idaho, in April 1944. This was two months before the Normandy D-Day invasion, where he flew two bombing missions.

James "Bud" Mynatt Jr. was 20 years old June 6, 1944, when as a first lieutenant in the U.S. Army Air Corps he flew over Normandy to drop bombs from a B-24 during the D-Day invasion.

Bud went on to fly 73 more missions during World War II, but he said, "My first two missions were on D-Day.

"At the time I wasn't aware, and I guess I should have been scared to death, but I wasn't," he added.

Bud, now 94 years young and a resident of Sherrill Hills Retirement Community, was remembered for that D-Day heroism, as local officials presented him with a French Jubilee of Liberty medal during a ceremony at Sherrill Hills Wednesday, July 18.

"I'm glad they remember us," he said.

State Sen. Dr. Richard Briggs (R-District 7, including Farragut) presented the award to Bud.

Briggs, a retired U.S. Army colonel (38 years), related how his uncle, who served in the 8th Air Force, had his plane shot down and ended up in a prison camp during World War II.

"I feel a family connection with the (Air Force) service, so for me it's always an honor to be around real heroes," Briggs said. "It's humbling, and the service that you — and so many others like you — have done during World War II and all the other wars since then means a lot to us. We really look up to you."

"I think it's wonderful," said Carolyn Mynatt, Bud's wife and high school sweetheart. "He's very deserving.

"There were a lot of people who didn't make it back," she added. "He lost a lot of good friends who flew. I feel he's getting this (award) for them, too."

The presentation was the result of efforts by Farragut resident Mul Wyman, a retired Air Force supply officer who also served 15 years with Tennessee Air National Guard. He had seen a newspaper article about Bud's service.

"I thought he would be a good (candidate) for the French Legion of Honor award," Wyman said of Bud.

"I felt we really need to let everyone know about what the air crew experienced during each bombing they went out on," he added.

Wyman contacted Bud, researched his World War II actions and then completed the application, and Bud received the French Legion of Honor award, the highest award presented by the French in October 2017. Wyman heard about the French Jubilee of Liberty medal, which commemorates the 50th anniversary of D-Day, and also completed Bud's application for that award.

While the French government stopped making the Jubilee award medals after 1994, Debra Kajawa, managing director of 8th Air Force Historical Society, said the society got permission from the French government to mint a new medal and present it to Bud.

"The Jubilee of Liberty medal is presented in grateful recognition of your contribution in the liberation of France," Kajawa said.

From the accompanying certificate, she read, "It is a testament to the commitment to the freedoms so many have fought and continue to fight for every day."

Other family members at the ceremony included the Mynatts' daughter, Jeanne Scholze; grandson Jacob Scholze; and their great-grandchildren.