CCS volleyball pushes FHS, beats West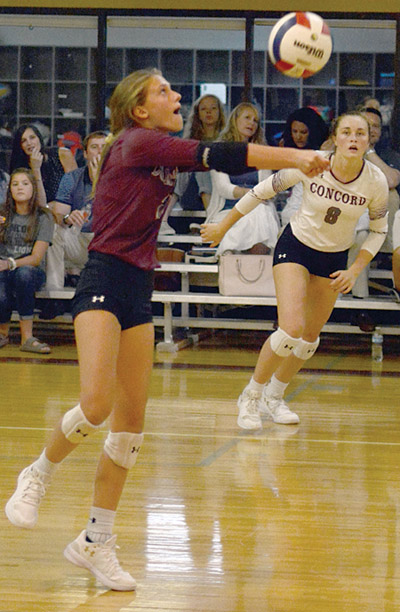 Lady Lions libero Alie Tucker, a junior, sets for her front line as CCS teammate Annabelle Sulish, a freshman, reacts.

Farragut High School volleyball head coach Susan Davidson couldn't have been happier Monday evening, Aug. 13, as her Lady Admirals picked up a pair of season-opening wins at Concord Christian School.

"This was a great early-season match for us," Davidson said after Farragut prevailed in a three-set thriller over the host Lady Lions 25-18, 22-25, 15-13. "They're a great team and they could very well be in the state finals.

Seniors Sydney Cherney and Caroline Bower led Farragut's hitting attack against Concord Christian, which salvaged an opening-night split as it swept Knoxville West 25-10, 28-26. Cherney finished with eight kills, 15 digs and three aces while Bower, a College of Charleston commitment, finished the match with nine kills.

"I think we got great senior leadership from Sydney and Caroline," Davidson said. "I don't want to take anything away from them, but we have some great young players on the floor."

The Lady Admirals' senior duo received plenty of help from a young supporting cast. Jordan Sutton had four blocks. Ira Au finished with 12 digs and Reese Schroeder also had three aces.

Cherney was pleased to see Farragut beat Concord and the Lady Rebels. Farragut swept West 25-20, 25-10 in the season opener for both school.

"It was great to get these wins," she said. "Concord has some great young freshmen and they're a great team."

"I think we all grew a little tonight," Davidson said. "If we continue to grow like we did tonight, we'll have a good season."

Concord head coach Carmen Hochevar also was pleased with her team's effort.

"This was a great night for us and Farragut is a great team," she said. "I want to come out and play a tough schedule. Playing these teams can only make us better.

"We'll see Farragut one more time. I have a young team, but I'm really excited. I have four freshmen on the floor at any one time."

Freshman Annabelle Sulish had seven kills and three aces for CCS. Senior Sidney Sherrill added six kills and two digs.