'God's plan': Sheltons' Town 'Castle' for sale at $5.25 million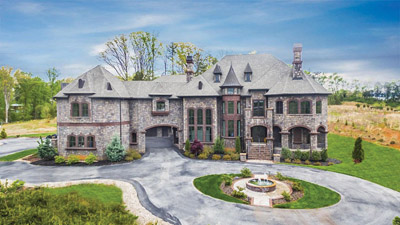 Overlooking Campbell Station Road, the front of this Sonja Drive home is not readily visible, but up close, has an old-world castle-like feel.

What could be referred to as "Farragut's Castle" is on the market at an asking price of $5.25 million.

The uniquely-designed 15,027- square-foot home has a Sonja Road address and overlooks Campbell Station Road from an 11.45-acre tract. The home was completed in March 2015

following a more than a three-year design and build process, which also included finding the right property.

It was designed by its owners to be large enough for their family to enjoy not only in present day, but also in the future.

"We wanted to have a large home that our kids, along with their families, would one day be able to come back and visit us," explained owner Kimberly Shelton.

However, she believes God wants the family to change course.

"It's a beautiful home, and I love living here," she said. "(But) we are trying to focus on what God's plan is for us and simplifying seems to be what we hear."

The choice to move has come gradually to Shelton, who said, "I will miss it, because I spent so much time in the details.

"But we want more time for Him and our family."

Its private gates preclude passersby from seeing the majestic mountain view its owners enjoy, nor the extensive gardens, saltwater pool, a bathhouse and circular drive filling the home's backyard.

It is described by listing agency Kings of Real Estate as "having every possible amenity paradise could offer in the heart of West Knox (County)," from "top-of-the-line furnishings and fixtures (to) chef-quality appliances."

Its seven bedrooms include a master suite on the ground level that features one of the home's four fireplaces. The home also has a six-car garage, a two-story library, a home theater/entertainment room, a fitness room, bonus rooms, an upstairs rec room and a second-floor sundeck overlooking a covered entertaining area.

Shelton said she thinks the home "would be perfect for a large family, such as ours," which includes eight children.

She thinks the location is a draw, too.

"We are so close to everything, but yet it feels so private," she said. "We hosted a wedding on the back of the property, and it was beautiful. It is a large home, but the layout allows for it to feel cozy.

"I think our entertainment area is probably my favorite place in the house," she added. "We have a pool table, bar, ping-pong table and six TVs, (which) is fabulous during football season. Plus, it is just steps away from the large kitchen."

Shelton also suggested the home might be used as a bed and breakfast by future owners, among other uses. "I always wanted to be involved with the community by serving as a safe house for women and children in some capacity, so I saw this as a possibility after the kids all moved out," she said.

The house has been on the market for about a month. The listing agent is Tracy King. For more information, call 865-365-2280.