Farragut High School Class of 2019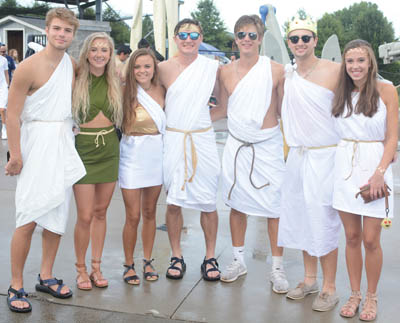 From left, Zane Jessee, Kate Gallaher, Ellie Arp, Myles McFerran, Nick Barnes, Alec Nussbaum and Amy Anderson

Scores of Farragut High School seniors, the Class of 2019, continued a decades-

long tradition for FHS Admirals varsity football home-opening games: Toga Night.

Many seniors were creative in their toga style, while others kept to the basics, as they gathered en mass in the lower center section of Eddie Courtney Stadium to cheer on

the Admirals Friday evening, Aug. 17, versus Bradley Central.

Keeping with another tradition, the mass release of baby powder upon the game's opening kickoff, the toga-clad seniors' enthusiastic and loud support — despite periods of rain — helped lift the Admirals to a dominant 34-0 victory against the Bears.

For more photos, see the "Toga Night' page in our print edition.