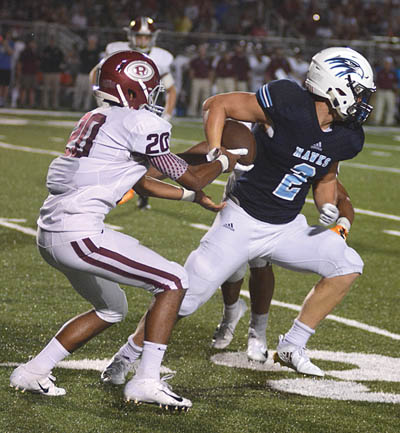 Luke DeFur (2), Hardin Valley Academy senior receiver, manages to hold onto the football despite an Oak Ridge defender's attempt for a takeaway. The Hawks fell in this season opener, 23-7, Thursday evening, Aug. 16, at HVA.

While Bearden pitched a shutout — against one of its most intense rivals — to open the Farragut area high school football season late last week, the FHS Admirals did the same by blowing out the highly respected Bradley Central 34-0.

These so-called "Kingston Pike Rivals," who don't play each other until week nine at BHS's Bill Young Field, were the lone winners among the "Big Six" participants in 2018 How the West Was Won presented by PureMagic Carwash contest for best regular season record.

The Bulldogs blanked Knoxville West 9-0 at Bearden last Friday, Aug. 17, while the Admirals forced numerous turnovers to help slow an otherwise potent Bradley offense in the friendly confines of FHS's Eddie Courtney Stadium/Bill Clabo Field.

Because of a 34-9 net-point advantage, Farragut holds first-place on the HWWW-PureMagic Scoreboard.

Three other contest participants hosted season openers late last week, yet ended up losing by double digits.

Hardin Valley Academy had the spotlight pretty much to itself as a Thursday host, with a television audience also viewing HVA's new "Pilot" synthetic field and scoreboard, against traditional power Oak Ridge.

The Hawks' offense, however, struggled most of the evening, while the defense — at times quite strong — nevertheless gave up three big plays in a 23-7 ORHS Wildcats victory Aug 16.

Knoxville Catholic perhaps took over the Friday spotlight in KCHS's Blaine Stadium, with its own television audience, hosting Class 6A power Maryville while looking to avenge a 49-42 loss at MHS to open the 2017 season.

This battle of defending state champions (Maryville in 6A and Catholic in 5A) was tight early before the Rebels pulled away in the second half, winning 31-10.

For Christian Academy of Knoxville and head coach Travis Mozingo, it wasn't the kind of start a team coming off a 2-9 season wanted.

Christ School (North Carolina) came to CAK and had their way, winning easily 44-7.

The lone HWWW-PureMagic contest participant not hosting its season-opening game, Webb School of Knoxville, was on the short end of a 13-10 decision versus Evangelical Christian School of Memphis, which was played at Vanderbilt Stadium in Nashville.

Week 2

Looking to pad their 1-0 starts in Week 2 action, Farragut will host McMinn County (1-0) while Bearden travels to Cleveland to play the CHS Blue Raiders.

Hardin Valley will face another team licking its wounds, traveling to rival Knoxville West.

Yet another powerful opponent travels to Blaine Stadium this week, as Chattanooga Baylor (Division II-AAA, 1-0) travels to Cedar Bluff to face the Fighting Irish.

Webb goes from west to east — Nashville to Asheville — playing at Asheville High School (North Carolina).

Things won't be any easier for CAK this Friday, as the Warriors travel to Greenback (1-0) to face the defending Class 1A state champions.

(All games are scheduled to be played beginning at 7:30 p.m., Friday, Aug. 24).