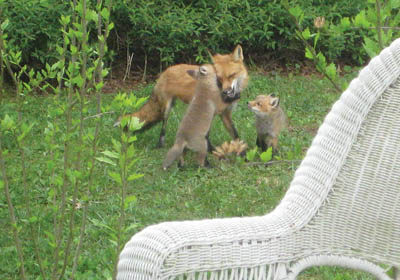 A mother fox plays with two of her kits in the backyard of Emma Bea Stallings' home in Fox Den subdivision in April.

Mentioning "little Fox Den Red Foxes," especially in the summer, would be an assumed reference to small children swimmers on the Fox Den subdivision's community team.

But the foxes that visited Emma Bea Stallings' Fox Den home for an extended stay were furry — apparent descendants to those animals for which the subdivision was named 50 years ago.

Suddenly last April, as Stallings tells it, five small foxes and their mother appeared to make the bottom of her back deck their home "for about three weeks.

"We have outdoor sensor lights that come on at night when there's movement, and my son (Jon Stallings) was at the house and he first noticed it about 10 o'clock one night," said Stallings, who has lived in two different Fox Den homes and has resided in her current home for 27 years. "We saw a couple of them up on the deck.

"The next night, my other son was there, Joe, and he and Jon saw them," she added. "They came to get me, and we just watched them play. … It was really cute to watch them."

Within a few days, "We saw five come up," Stallings said about the younger foxes. "… At first they were clumsy and would stumble and fall on the steps coming up. And then they got more sure of themselves.

"… They got to the place where they were strong enough to jump up on the (deck) sofa and practice their pouncing," she added.

Wanting to assist their meal plans, "We got on the Internet and found out what to feed them," Stallings said. "So the boys went down to the pet shop and bought what I call dead mice, but they're labeled gourmet rodents. They were frozen, and they came in a plastic bag. We would cut up little bits of apple."

Gourmet rodent mealtime on top of the deck "was usually about 10 o'clock at night," Stallings said.

The young foxes' mother "came up on the deck maybe three times," Stallings said. "Mostly she patrolled (at the base of the deck). They would be up on the deck, and she would watch and run out in the grass, across (the yard), and then run back, to make sure they were OK.

"I guess eventually she realized that we were not going to hurt them," she added, pointing out one time when Jon and Joe were on the deck with the young foxes, without a problem, because her sons "stood still and were quiet."

Before this experience, "In all the time I've lived in Fox Den and Farragut, I have probably seen foxes a total of five or six times," she said. "I had never seen a group, never seen a baby.

"We saw them out in the daylight no more than two times," Stallings added. "They came out mostly at night."

Then, as quickly as they came, they were gone.

"Maybe they outgrew the space," Stallings said, adding she hasn't heard any word about these or other foxes from neighbors or other Fox Den residents.

But the three-week encounter "was a lot of fun," she added.