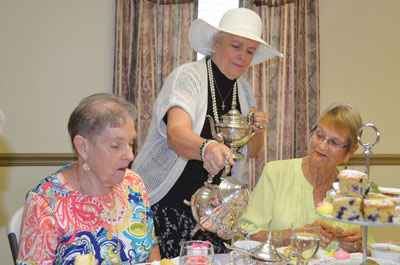 Nancy Dennis, center, serves tea to Fashion Show guests

Ladies of all ages attended Lydia's Guild 5th Annual Summer Tea & Fashion Show at Holy Cross Anglican Church on a warm summer Saturday in August.

A variety of teas, finger sandwiches and desserts were made from scratch, and served on silver and china to the delight of guests, who also were treated to entertainment from Clinton storyteller and author Cindy Leihkauff and a fashion show from Southern Bliss Boutique of Oak Ridge and Lenoir City.

In addition to the afternoon's fun, ticket proceeds aided the community, with donations being made to Lost Sheep Ministry for area homeless, Concord Adult Day Enrichment Services, Volunteer Ministry Center, Hope Resource Center and battered women's shelter, IVAS Place.

For more photos from this event, please see Westside Faces in our print edition.