Talons finally trump Swords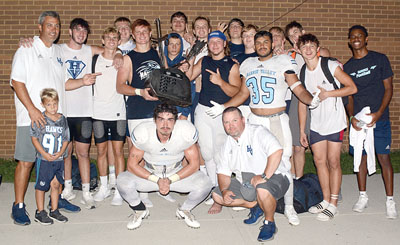 Several happy HVA Hawks finally took possession of The Sword and The Talon Trophy, annually awarded to the HVA-West winner, after their dramatic 15-12 win at West's Bill Wilson Field Friday night, Aug. 24. That included head coach Wes Jones, far left.

KNOXVILLE — Kelton Gunn and Josiah Lambert weren't going to let a West fourth-down "up-for-grabs" 29-yard pass spoil things, though it was completed in the game's closing seconds — leading to a TD and what apparently was going to be the Runnin' Rebs' eighth straight win against Hardin Valley Academy.

But a hard-charging Hawks defensive front apparently unnerved the West kicker, and a potential game-winning extra point was kicked low.

Tied 12-12, Gunn took over on the ensuing kickoff, racing 57 yards to help set up Lambert's game-winning 36-yard field goal — also made possible by a 10-yard West holding penalty as time expired following a Hawks incompletion.

For the first time in school history, HVA defeated West (15-12) and finally — and happily — carried off the rivalry's The Sword and The Talon Trophy Friday night, Aug. 24, at West's Bill Wilson Field.

"God got me help. I took the ball, started inside, broke a tackle and went outside and just used my speed," Gunn, a junior, said about his return. "I was almost to the house, and that's what set us up for a great field goal.

"I couldn't have done this without my team, they played great," he

added.

An equally thrilled Wes Jones, HVA head coach, told Lambert, "you redeemed yourself" after he missed a 37-yard field goal early in the fourth quarter.

"He came out, he was focused, he was ready and he made it right through the middle," said Loch Hardin, HVA senior running back/linebacker.

"I knew God was going to pull me through," Lambert, a senior, said. "God was just going to take my leg and put that ball through the (uprights). I really owe it to God, God did everything for me … ."

"We just gave it all tonight," said Kaleb Tyes, junior defensive lineman. "I just want to thank my coaches for where we are right now.

"And Kelton had one heck of a game," he added.

The Hawks went up 6-0 following a Luke DeFur interception and 26-yard return to the West 13 late in the first quarter. Senior quarterback Grayson Vaughn found senior receiver Cartez Campbell for an 8-yard touchdown pass.

Hardin Valley made it 12-0 on a trick play, following Hardin's fumble recovery at the Rebels' 37, with 7:32 left in the second quarter. A 42-yard double reverse touchdown pass from DeFur, a senior, was perfectly placed to Noah Moro deep down the right sideline. "Honestly, this is right up there with beating Farragut (last season),"

said Moro, a senior who also had an interception.