Mayor Williams, Alderman Meyer sworn in; Povlin new vice mayor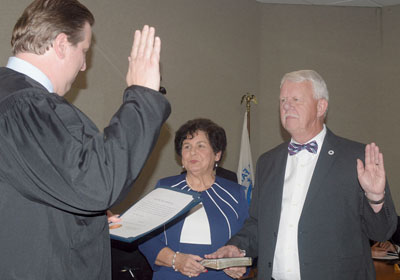 Farragut Municipal Judge Keith Alley, left, administers the oath of office to incoming Farragut Mayor Ron Williams while Williams' wife, T.C., holds the Bible minutes before his first Farragut Board of Mayor and Aldermen meeting as mayor.

Town of Farragut's new Board of Mayor and Aldermen — Mayor Ron Williams and Alderman Scott Meyer — and incumbent Alderman Ron Pinchok were sworn in prior to the Board's meeting Thursday, Aug. 23.

Farragut Municipal Judge Keith Alley swore in Williams and Pinchok while state Rep. Jason Zachary swore in Meyer.

Farragut public relations coordinator Wendy Smith explained incoming Board members could choose who administered the oath of office.

Williams, a retired machine tools sales engineer for Sunnen Products, represented the South Ward as alderman for two years. He thanked voters and praised volunteers who helped with his campaign, "going door-to-door in subdivisions, knocking on doors, putting out signs along the roadside and flyers on cars, as well as standing in the rain from 8 in the morning to 8 in the evening on Election Day, Thursday, Aug. 2.

"This was a true grassroots effort with absolutely no special interest players or money involved," Williams said.

He also has served two terms on Farragut Board of Zoning Appeals and five terms on Sugarwood subdivision's Home Owners Association Board, for which he is the HOA's past president.

The new Board's first order of business was to elect Alderman Louise Povlin as vice mayor.

Meyer nominated Povlin, while Williams nominated Pinchok to retake the post he held prior to becoming interim mayor in June.

Meyer said he thought Povlin should be vice mayor because "she has done an outstanding job for the North Ward and the entire Town of Farragut."

He said Povlin represented the Town on multiple committees and attended Knox County Board of Education and county transportation committee meetings. "She actually has worked very hard, on behalf of the subdivision (in which) we live, and two other ones, to get those subdivisions rezoned to Farragut High School (from Hardin Valley Academy), uniting our community once again," Meyer said.

Pinchok withdrew his name as a nominee, followed by Povlin receiving a unanimous vote.

The Board still has to choose an alderman to represent South Ward 2, which was left vacant when Williams was elected mayor. The term for that seat will expire in August 2020.

Pinchok made the motion, which passed unanimously, that the Board follow the same process when former Alderman Ron Honkin resigned.

Town administrator David Smoak said the Town accepted letters and résumés from interested candidates from that ward for a couple of weeks, then Board members individually interviewed each candidate.

The interviews were followed by a public hearing, when candidates could comment before the Board made the appointment.

The Town will accept applications through Monday, Sept. 10. Paperwork may be dropped off to Allison Myers, Town recorder, at Farragut Town Hall, 11408 Municipal Center Drive, or e-mail to amyers@townoffarragut.org.

Smoak said the Board could vote on an appointment at its meeting on Sept. 27.

Town resident Robin "Bob" Hill asked, out of "clarity and openness," to allow residents to ask questions during the process.

He suggested allowing residents to write questions and give them to Board members.

Williams suggested residents could submit questions to Myers.

"I think, if citizens in the South Ward have concerns they would like to have addressed, they certainly e-mail us or e-mail the individual candidates themselves," Povlin said.

She added the candidates' resumes will be posted on the Town's website, so residents themselves may contact candidates.