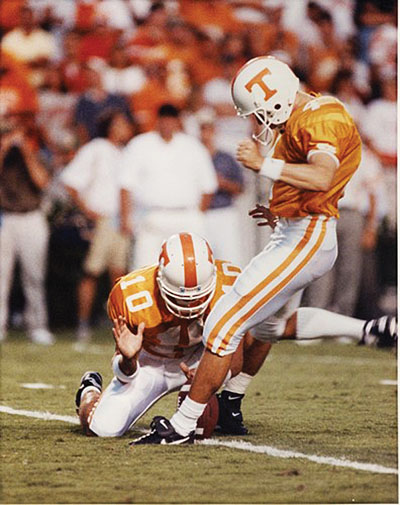 As Benson Scott holds, Jeff Hall kicks the eventual game-winning field goal in overtime versus Florida, 1998, in Neyland Stadium.

Admitting he was a bundle of nerves before each of the game-deciding field goal attempts he nailed as an All-SEC kicker, Farragut resident Jeff Hall recalled a turning point — that didn't involve his clutch right leg and foot — in the Tennessee Volunteers undefeated run toward winning the 1998 national championship.

"Probably the biggest momentum change that I've ever experienced as a player, or a coach for that matter, it was the Arkansas game with (quarterback Clint Stoerner's) fumble," he recalled about the Razorbacks' huge mistake while attempting to run out the clock and upset Tennessee 24-22 in Neyland Stadium. The Vols used the fumble to score a touchdown in the closing seconds and win 28-24.

"I think (teammates) would go back to Billy Ratliff's fumble recovery and say, 'you know what, this is kind of the moment that we realized we're really on our way,'" he added.

With strong wind and steady rain a challenge the entire game, "Looking back on it, I'm really glad they ran the ball in the end zone" to win the game, as opposed to Hall having to attempt a game-winning field goal in such challenging conditions, he said.

Despite his game-winning kicks to beat Florida in overtime and at Syracuse as a redshirt senior in 1998, "I was nervous for every kick, whether it was an extra point or a field goal, it did not matter," Hall said. "… People would say all of the time, 'I bet you were just chomping at the bit, you wanted to get out there and kick.'

"Well, not necessarily," he added. "It's not a fun couple of minutes preparing to kick the football to win the game. You feel like your head's going to explode, your heart's beating out of your chest, you can't feel your legs.

"Thankfully, whenever the game was on the line we always made the kick," he added.

Regardless of the opponent's rank, rivalry with UT or championship importance, "part of why I had a reasonable degree of consistency is because I treated every situation the same," he said. "I had a routine each week leading up to each game that was pretty similar one week to the next."

It didn't always work. Recalling one inaccurate "Third Saturday in October" in Neyland Stadium during the national title run, "We were playing Alabama and I missed two 45-yard field goals, I think," he said. "Well, that week leading up to the game, I had probably one of my best practices ever. I don't think I missed a kick the entire week."

If you have a bad game, "You've got to flush that — I learned that very quickly," he said.

Among 1998 teammates still close to Hall is Benson Scott, former Farragut Admirals star football player who was Hall's holder for two seasons, including 1998.

"Benson and I go to church together at Cedar Springs Presbyterian. He has always been an incredibly close friend of mine," Hall said.

Looking back on the national championship, "Coach (Philip) Fulmer always used to say, 'Guys, you won't appreciate it as much until you get older,'" Hall said. "As usual, he was correct."

A special teams coach with Christian Academy of Knoxville from 2007 through 2014 — and part of two Class 3A state championship teams — Hall, 42, is a partner and senior advisor with Rather & Kittrell Private Wealth & Retirement Plan Advisory in Farragut.

He and wife, Stacey, have four children.