Comes back to Village Green Shopping Center parking lot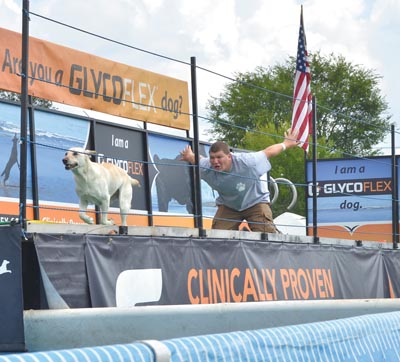 Matthew Gyurgyik enthusiastically encourages "Alli."

It certainly was "Dog Daze" when Shop Farragut/Farragut Business Alliance hosted 2nd Annual Dock Dogs nationally-sanctioned regional aquatic competition Friday through Sunday, Aug. 17-19.

Dozens of highly-trained canines competed in Village Green Shopping Center parking lot. Events included Big Air Wave (long-jump) and Speed Retrieve. Winners collected points toward competing in the World Championships, which will be held in Knoxville in October.

Locals got in on the fun, too, with the first evening devoted to area pooches literally testing the waters to try out the Dock Dog experience for themselves, with help from event co-sponsor Smoky Mountain DockDogs Club.

Additional sponsors included TDS Telecom, Ricki's Pet Depot, First Utility District, Town of Farragut, Farragut West Knoxville Chamber of Commerce and Greater Knoxville Hospitality Association.

For more photos from this event, please see Westside Faces in out print edition.