Kuhn, White, Corum, running backs among stars in rout of M-West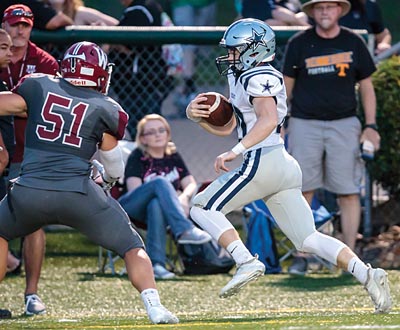 Matt White, FHS sophomore defensive back, is en route to what became a 99-yard interception return for a touchdown, breaking a tackle at midfield before picking up a host of blockers.

MORRISTOWN — Having defeated its third straight opponent by at least five touchdowns, Farragut destroyed Morristown West in Burke-Toney Stadium thanks in part to a pair of touchdown drives to begin the game — including a 58-yard kickoff return — plus a 99-yard interception return for six points.

Sprinkle in a 65-yard touchdown pass from quarterback Gavin Wilkinson to receiver Tanner Corum — his second career TD after getting his first one a week earlier — and long touchdown runs from Isaiah Gibbs and Kyle Carter and the Admirals walked away a 42-7 winner Friday evening, Aug. 31.

Now 3-0, Farragut won its first Region 1-6A contest. The Trojans fell to 1-2, 0-1.

And speaking of wins totaling margins of at least 34 points, Oak Ridge surely hasn't forgotten a 41-0 spanking it endured at FHS's Bill Clabo Field last season.

The Admirals travel to Blankenship Field this Friday, Sept. 7, to face the revenge-minded 3-0 Wildcats. Opening kickoff is set for 7:30 p.m.

FHS 42 Morristown West 7

As for frustrating the Trojans' offense, senior defensive end Caleb Kuhn proved almost unstoppable much of the evening, recording eight total tackles — including four for minus yardage.

In terms of overpowering and being quicker than the Trojans' offensive line, "I think it was a combination of both out there," Kuhn said. "I've really got to credit the coaching staff for just preparing us this week. (Defensive line coach Tom Doucette) just runs us through the gauntlet all week long, and just makes Friday nights seem easy."

Benji Cheatham, senior linebacker, added six tackles including a sack.

Matt White's 99-yard interception down the right sideline included breaking a tackle at midfield before seeing his blocking convoy reconvene toward the end zone.

A Trojans lineman "tried to take my head off, and I don't know how I didn't go down," said White, a sophomore defensive back who also had another interception. "After than I had a bunch of lead blocks, and I put that to my teammates for letting me score."

As for Farragut's defensive dominance, "We work really hard in practice and we put that to the field," White said.

In total yards, Farragut outgained Morristown West 350 versus 252.

Playing in his second game after returning from a knee injury, Gibbs scored on a 39-yard run and a 14-yard TD reception from Wilkinson.

"It was a hard road, I had a lot of rehab to do. This is my first game without the brace," said Gibbs, who rushed nine times for 65 yards against MWHS.

Carter, a senior running back, scored on runs of 33 and 1 yards. He ended with 15 carries for 116 yards.

"Me and Kyle, we have a good dynamic, both of us were able to make plays. We feed off of each other," Gibbs said.

Corum, a senior, hauled in the 65-yard scoring pass at the MWHS 39 and went untouched into the end zone in the third quarter. He also picked off a pass in his role as a defensive back.

"Obviously the chemistry with the receiving corps is just outstanding," Corum said.

"Up on the offensive line, the protection they are giving is absolutely fantastic."

"The 'Two Hefties,' they work really hard. They're the big guys," senior center Cooper Mashburn said about seniors Jake Rima, left guard, and Ethan Gossage, right guard. "They're the hole-openers.

"The rest of us, we try to block linebackers … our main objective is to man up everybody that we can," added Mashburn, also joined by senior left tackle Preston Webb and sophomore right tackle Carter Schuermann.

Sophomore kicker Daniel Bethel was five-of-five on extra points with three touchbacks, while senior Dalton Halliburton nailed his one conversion attempt.

Senior Wyatt Lucas got the game started on a positive Admirals note: a 58-yard kickoff return to the Trojans 38.

Punter Brady Hodges, a sophomore, landed one of his boots at the FHS 3.