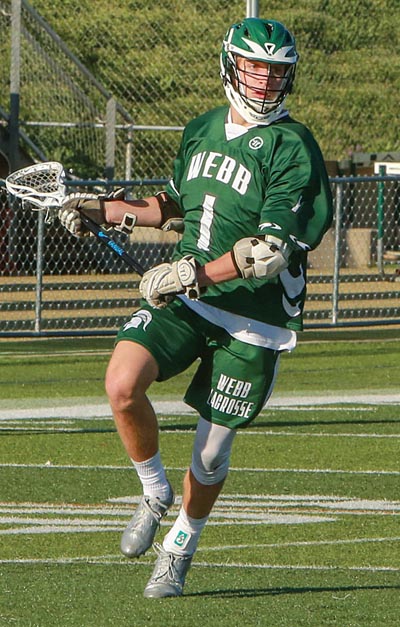 Davis DeLozier, Webb School of Knoxville Class of 2018 valedictorian and former Spartans lacrosse star attacker, recently was named a 2018 Academic All-American by US Lacrosse. He is the first Webb lacrosse player in program history to earn this honor.

Davis DeLozier, Webb Class of 2018 alumnus, recently was named a 2018 Academic All-American by US Lacrosse.

An attacker, DeLozier was one of only seven high school laxmen in Tennessee to receive this national honor.

Valedictorian of his graduating class, DeLozier is the first Webb School lacrosse player to receive Academic All-American honors in school history.

Nominees selected for US Lacrosse All-Academic Team must exhibit exemplary lacrosse skills, good sportsmanship on the field and represent high standards of academic achievement in the classroom.

DeLozier, a five-year member and four-year starter for the Spartans, was named to the 2018 Tennessee Scholastic Lacrosse Association Division 2 All-League/All-State First Team. The attacker also was nominated for 2018 Knox News Sports Awards' Boys Lacrosse Player of the Year (won by Spartans teammate Morgan Ernst, also from the Class of 2018).

As captain his junior and senior seasons, DeLozier helped lead his Spartans to back-to-back TSLA State Final Four appearances in 2017 and 2018. He also was a two-time (2016, 2017) lacrosse All-Region Team honoree and was named Knoxville Lacrosse Player of the Year as a junior.