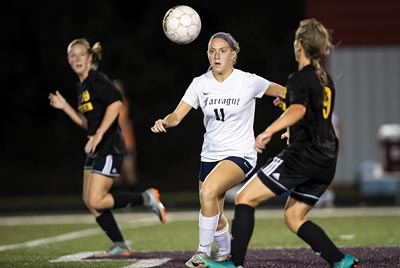 Emma LeClair (11), FHS junior, races to run down a loose ball during a Bearden Invitational game versus Giles County at BHS's Bill Young Field Saturday night, Sept. 1. Giles County won 1-0.

KNOXVILLE — A hat trick was the leading good-news story for Farragut Lady Admirals soccer last weekend, fueling a victory during play in annual Bearden Invitational at BHS.

The bad news? Another Orgeron comes to Knoxville and wins.

Matthew Orgeron, "a distant relative" to LSU Football head coach Ed Orgeron, followed the example Ed set in coming to Neyland Stadium last fall and beating the Tennessee Vols.

Matthew's Giles County Lady Bobcats blanked Farragut 1-0 Saturday evening, Sept. 1, at BHS's Bill Young Field.

While Farragut began the week with a 4-3 record, Giles County stood at 5-4 over, 1-2 during Invitational play.

However, "Our first game, we did what we needed to do and we played it out," said senior Riley Clayton, FHS standout midfielder/forward, about the Lady Admirals' 3-2 victory against Arlington (Memphis) Friday evening, Aug. 31, during Invitational play at Bill Young Field.

Senior Amy Cloud, Farragut center midfield standout, ended Invitational play with a team-leading eight goals, which included a hat-trick (all three goals) versus Arlington — two on penalty kicks.

"Amy is very consistent, she plays well all the time," Admirals skipper Drew Payne said. "… She's such a good player and such a good leader.

"She has eight goals in seven games, and she plays center-mid," he added. "That's indicative of her ability, but it's also indicative of the forward production we have. … They've got to be scoring more goals."

Payne also praised defensive midfielder Ashton Wright, "a freshman who's playing really hard and relatively well right now," he said.

But against Giles County, "That was a bad game overall," Payne said. "… We lost to a team we should have beaten, period."

"I don't think that we quite grasped what we were doing this game. … I don't think we worked as hard as we needed to for this one," Clayton said. "We have the tactical ability, it's just one of those games."

"Farragut's a very talented team, and we got a chance to see them yesterday. And No. 16 (Cloud) and No. 4 (freshman Lexi Foley) are very quality players, and we just knew we had to shut them down — especially No. 16 in the center of the field," Orgeron said. "Just controlling that center of the field and not allowing her to distribute the ball and work on a quick counter."

Comparing his team's two Invitational games, Payne said about the Arlington performance, "We played a lot more direct. We played a completely different formation. The idea was just get the ball forward. It was just, 'win your individual battles, play your hardest and do everything possible you can to get the ball forward.

"We went into it to do the same thing tonight, but we realized they were just going to sit back and give us the ball," he added. "We were just kicking it into them over and over."

Though adjusting, "We should be able to do a better job of playing more attacking soccer with moving the ball up as a team," Payne said. "That was completely non-existent.