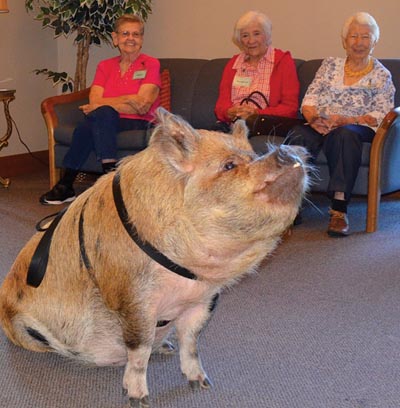 Spoon the pig visited Concord Adult Day Enrichment Services recently at Concord United Methodist Church, much to the delight of spectators.

A group of Farragut residents recently went "hog" wild for Spoon the pig.

Spoon, a Kunekune pig whose owners are Michelle Reimert and Scott Tucker of South Knoxville, visited Concord Adult Day Enrichment Services at Concord United Methodist Church on Wednesday, Aug. 22.

The visit was part of an ongoing pet therapy program at CADES, which has brought dogs, cats and chickens to visit the group on a regular basis.

"We had been looking for a pig for about a year for the program," said Louise Snodgrass, CADES pet therapy volunteer coordinator. "It is important for pets to visit CADES and other facilities because it gives the elderly a chance for touch. As we get older we begin to lose our spouses, other family members and friends, so kisses and hugs become more rare.

"Animals give unconditional love," she added. "They couldn't care less if you remembered what you did that day, they love you just as you are.

CADES participants, their family members, CADES volunteers and church staff were eager to meet Spoon, whose visit had been promoted for some time.

She had to be brought in a side door to a carpeted area in the church's narthex, as Reimert said the pig's hooves have trouble navigating slick floors.

Spoon happily posed for pictures and showed off a few tricks, such as circling her owners on command. She was only too pleased to be petted by group members, too, all of whom noted Spoon's stiff bristly hair.

Spoon, who weighs just over 200 pounds, is Reimert's and Tucker's pet. She is 5 years old, housebroken and sleeps on a pallet in their bedroom.

Reimert said Spoon is bathed regularly at a local pet store offering a do-it-yourself cleaning option. However, Tucker noted Spoon typically is not a willing participant.

"She does get to go to Panera bread for a treat afterward, though," Tucker said.

Spoon also loves fresh fruit as snacks, which were plentifully flowing the day of her visit.

Reimert said Spoon got her name when the couple couldn't decide on one together.

"We were sitting at Cracker Barrel one day, and my husband just said, 'Why don't we call her Spoon?' So we did."

Kunekune (which translated means "fat and round" in Maori) pigs are native to New Zealand and were herded by the Maori tribes.

The couple plans to bring Spoon back for a visit in the not-too-distant future.