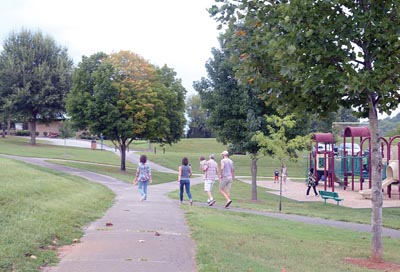 Town of Farragut is the recipient of a $325,000 2018 Local Parks and Recreation Fund grant to improve Anchor Park's facilities.

"It is the oldest park and has had the least (updates) done to it," Wendy Smith, Farragut public relations coordinator, said. "It was the most in need of updates."

"This grant is important because it will allow us to make important renovations to Anchor Park," Farragut Parks and Athletics coordinator Lauren Cox said. "Right now, if you are in a wheelchair or scooter, you can't get into the restrooms, and people in scooters use the park all the time.

"We also don't have wheelchair access to our diamond or rectangle fields, so if a spectator has disabilities there's no place for them," she added.

Receiving this grant "is an opportunity for us to get the (Americans with Disabilities Act) standards updated at that park and also just make it nicer," Smith said. "It's a good start.

"Given how expensive (renovations are), it's a great thing to have a grant because that allows us to do it for less than we would have had to, and it has to be done," she added.

This past year, updates were completed at Mayor Bob Leonard Park's restrooms. "And, McFee (Park) restrooms are new enough that we don't have to do anything to it," Smith said, adding she was not sure about restroom facilities at Founders Park at Campbell Station.

Renovations at Anchor Park would include a reconstructed and expanded restroom and entrance plaza and ADA access to the diamond and recreational fields, a Town press release stated.

"We have these ADA improvements that we have to make — the federal government is requiring us — and public restrooms are a really important place to get the ADA (updates) right," Smith said.

The Town's Parks & Leisure Services department submitted the grant application in April 2018. Renovation construction should start in middle to late 2019, but the park's walking trail currently is closed to prepare for resurfacing.

"It will remain closed until the project is complete," Cox said. "It should be done by Friday, Sept. 28."

Anchor Park will stay open except for two days: when the asphalt top coat is applied, she said.

"We don't know dates yet, but we'll post them on our website and on social media when we know," Cox added.

The state property recordation tax funds the grant, which is administered by Tennessee Department of Environment and Conservation Recreation Educational Services Division.

"The LPRF grant program was established by Tennessee General Assembly in 1991 to provide local governments with funds to purchase land for parks, natural areas, greenways and recreational facilities," the press release stated.

The funds also may be

used to develop trails and

projects in parks, natural areas and greenways.

The grant is expected to pay half of the total renovations costs.

"All LPRF grants require a 50 percent match by the recipient," Smith said. "We'll have to come up with $325,000, and I expect we'll spend more than that."

The press release stated grant recipients were selected through a scoring process with careful consideration given to projects meeting the selection criteria and which expressed the greatest local recreation need.