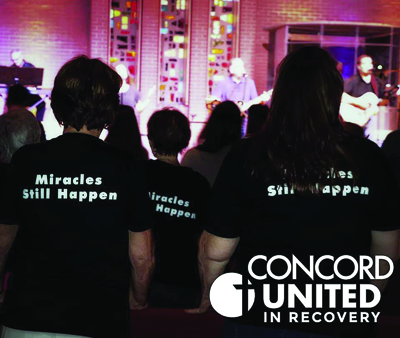 Similar to this gathering, Recovery Ministry is under way at Concord United Methodist Church under the direction of the Rev. Wil Cantrell, CUMC associate pastor.

Been there, done that, learned from my mistakes — and I'm ready to help you do the same.

Such is the motivation of 10 group leaders, overcoming various dependencies including chemical, who are now using their experiences to help others with the same struggles in the Farragut area.

As the backbone of "a team of 20 leaders and 40 volunteers" with the Rev. Wil Cantrell's weekly Recovery Ministry at Concord United Methodist Church, these group leaders have received training at the church after at least one year of having defeated their addiction/dependency.

Recovery Ministry runs for about two hours, from 6 to 8 p.m., each Monday in the church's Worship Center, 11020 Roane Drive.

Free to all in need of help — which also could include, for example, a successful businessperson or highly respected engineer simply feeling overwhelmed by life — Recovery Ministry began last Monday, Sept. 10.

"What we find, particularly when it comes to addiction and chemical dependency — alcohol and drugs — is that a peer support group of those who have already walked down this road, based on the 12 Steps, is every bit as effective as professional counseling," said Cantrell, associate pastor.

Moreover, the counseling doesn't end at CUMC. Counselors "are going to walk through life with these folks and become their friends," Cantrell said.

However, concerning professional counseling, "We recognize that often there are moments when that is necessary," he added. "… There are times for all of us when professional help is needed," such as "something that is deep-seeded, something that might have a mental health component, even a complicated family situation.

"We have (professional) Christian counselors here at our church. And we know some others who specialize in this throughout Knoxville."

Recovery Ministry also helps those "who have had a family member struggling with addiction," Cantrell said.

"Once we have three or four people who struggle with the same thing, we'll start a group just for that issue," he added.

The process also is cyclical. "Part of your recovery is to help lead others," Cantrell said.

Starting this program at a rural church in Lebanon, Virginia, in 2012 before coming to CUMC, Cantrell said, "we actually partnered with Cokesbury United Methodist Church, which is just down the street" along Kingston Pike. "They helped us start one.

"I would say hundreds" have been helped at the Virginia church, he added.

Having been at CUMC since summer of 2015, "We have kind of developed our own program here at Concord," Cantrell said.

Each Monday, "We start out with snacks and social time (6 to 6:30 p.m.), and then we have a time of worship," he said. "… In worship, you're going to hear inspirational music, you're going to hear a brief message about a scripture and based on the 12 Steps. … We read aloud the 12 Steps, and after each Step we read what we call a Christian companion."

Around 7:15 p.m., "Then we go to our support groups, we call them Open Share Groups," Cantrell said.

Gambling, eating disorders and compulsive spending are three of other numerous addictions where those struggling can get help, he said.

"We respect the idea of anonymity," Cantrell added. "And you don't have to say a word until you get the urge to share what's going on in your life.

"Some people will form a relationship, and they'll initially need to share their story one-on-one before they share it with the group."

Groups include chemical dependency (alcohol and drugs), family support (advice for a struggling family member) and life's tough, God is good (life is more than I can handle now, and I need to express that).

For more information, call CUMC at 865-966-6728 or visit www.concordum.com/.