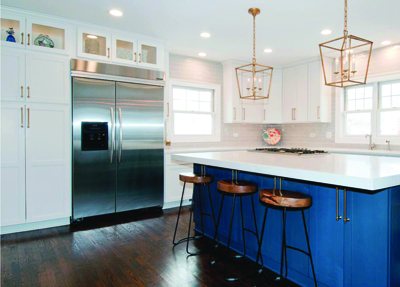 Kitchen Tune-Up Knoxville owners Ryan and Michelle Thompson, oversaw refacing the kitchen to a Mission/Shaker style with a white and navy color scheme.

For the past two years, local residents Ryan and Michelle Thompson, owners of Kitchen Tune-Up Knoxville, have been meeting growing demands from Farragut area homeowners seeking to update and upgrade the look of their kitchens.

Kitchen Tune-Up, a national kitchen and bath remodeling company known for its signature one-day wood restoration service, serves communities throughout Farragut with customized services.

"My goal is to make kitchen updates hassle-free for homeowners," Ryan Thompson said. "I want to show my neighbors that making a change in their kitchen can be fun and easy.

"They'll enjoy the experience every step of the way and will start dreaming of their next home improvement project the minute we finish."

Prior to opening Kitchen Tune-Up Knoxville, Ryan worked for the University of Tennessee Athletic Department as director of Annual Giving. Meanwhile, the career of Michelle Thompson, his wife, was in the staffing industry in Memphis and Knoxville markets.

Michelle became a top 20 worldwide producer during her tenure and has been an active member of many local networking organizations, said Maddy Maloney, public relations associate with the All Points Public Relations firm.

The Thompsons' combined experience gave them the foundation to launch and grow Kitchen Tune-Up locally.

"Ryan and Michelle have done a tremendous job at growing their business throughout the Knoxville area," said Heidi Morrissey, president of Kitchen Tune-Up Franchise System. "Their customers have left them fantastic reviews, and we are thrilled to have them as a part of the Kitchen Tune-Up family.

"They are exactly the type of trusted partner homeowners in Knoxville and the surrounding area needs to support their remodeling project," Morrissey added.

Besides residential clients, Knoxville's Kitchen Tune-Up offers kitchen remodeling for commercial customers.

Maloney said services for both client bases include the company's Tune-Up, a proprietary wood reconditioning process, as well as cabinet re-dooring, painting and refacing; custom cabinets and countertops; granite tune-ups; hardware; and organizers and storage solutions.

Plus, the Kitchen Tune-Up sales process guides homeowners through the entire project, Maloney said.

"We pride ourselves on being able to provide the best service while helping our clients achieve their vision with as little hassle as possible" Ryan added.

While most kitchen remodeling services could take weeks, leaving kitchens inaccessible, he said Knoxville's Kitchen Tune-Up can complete most projects in as little as one day to one week.

The company's customer service standards, known as its Trustpoints, ensure a hassle-free experience from start to finish, Ryan added.

Founded in 1988, the nationwide Kitchen Tune-Up company specializes in affordable kitchen updates and offers personalized service and results structured around customer service Trustpoints to ensure a hassle-free experience.

For more information, visit www.kitchentuneup.com. To inquire about franchise opportunities, visit www.ktufranchise.com/.