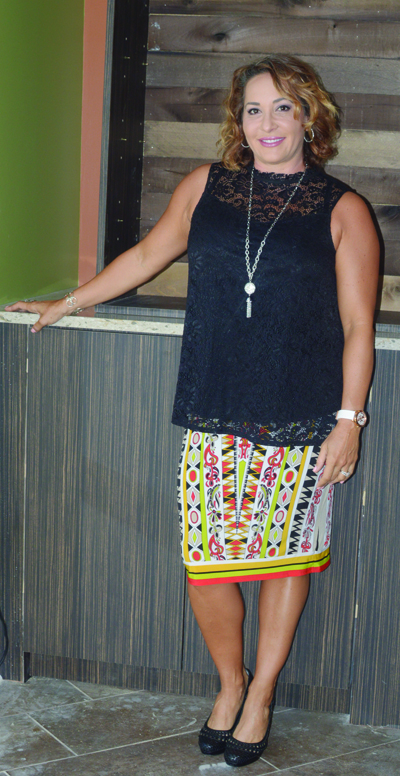 Paola Nielsen-Lensgraf, co-owner and operator of MediSpa at Choto, 1606 Choto Markets Way, plans to open by Oct. 1

Paola Nielsen-Lensgraf and her husband, Dr. Alan Lensgraf, are opening a new business, MediSpa at Choto, at Markets at Choto.

MediSpa at Choto, expected to open by Oct. 1 at 1606 Choto Markets Way, will provide a wide range of aesthetic services: from standard massage treatments such as massage therapy, to waxing, facials, make-up applications and eyelash extensions.

"And, we will be selling retail products, so part of what we will be offering there will be top-of-the-line skin and make-up products," Nielsen-Lensgraf said.

MediSpa at Choto also will provide chemical peels, fillers, Botox products and all types of laser services, which include body contouring.

"(MediSpa offers) everything to improve your quality of life," she added.

Nielsen-Lensgraf said fillers and other aesthetic procedures have grown in popularity, even with youth.

"My daughter's 14, and she (said), 'all my friends want to get fillers,'" she said. "They just want to change their appearance."

While Lensgraf is known in Farragut with his practice at East Tennessee Chiropractic, MediSpa at Choto is Nielsen-Lensgraf's first opportunity to venture out on her own.

Nielsen-Lensgraf worked for major pharmaceutical companies, where dermatologists and plastic surgeons were her customers. In that career, she traveled to conventions and spas all over the world.

From her experiences, Nielsen-Lensgraf learned "what people are really looking for, the environment they are looking to get it and the excellent quality they are looking for.

"I have managed businesses — spas, health clubs and hotels for other people — but this is the first time I get to do it for myself, so I'm very excited," she added.

"I've been wanting to start my own business for a long time," she added. "I've always been very passionate about skin and beauty; and as a former personal trainer and fitness instructor, I've always been very passionate about being healthy.

"So, for me (MediSpa) is a beautiful combination of my 20 years in business and in dermatology sales, merged with my husband's experience in managing a medical practice. We wanted to offer (Choto community) a place that people could come, relax, work on being healthier and feeling younger and help them reach their goals."

The Lensgrafs chose to locate at Markets at Choto because the area is growing and "the developer is trying to bring in good businesses that blend in together," Nielsen-Lensgraf said.

She hired architects and designers to create "a state-of-the art place that would merge the idea of relaxed, modern and organic feeling with our scientific approach to beauty; so it's the whole experience with excellent customer service."

While Nielsen-Lensgraf will not provide the services herself, she will have fully-certified staff, which includes a medical doctor, serving as a medical director overseeing procedures; a nurse practitioner; several aestheticians; and massage therapists.

Lensgraf will remain at his chiropractic office.

Clients may check MediSpa on Facebook for more details.

Business hours will be from 10 a.m. to 6 p.m., Monday through Friday, and from 9 a.m. to 1 p.m., Saturday — closed on Sundays.