Admiral kicker, defense clutch verses Wildcats; Jefferson Co. is HC foe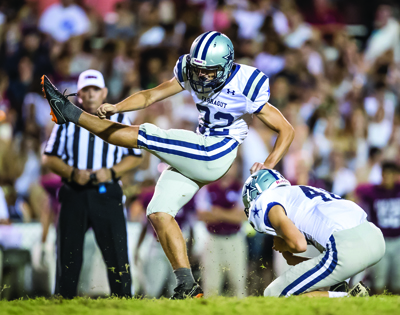 Sophomore Daniel Bethel's 46-yard field goal, held by sophomore Brady Hodges, put FHS up 17-14 late in the third quarter.

OAK RIDGE — Overcoming a disastrous 99-yard interception return for a touchdown early in the third quarter, Farragut's clutch defense, a 46-yard field goal and an 18-play, 64-yard drive eating almost eight minutes off the clock in the fourth quarter paid dividends.

A huge sack sealed the deal.

With the Admirals leading Oak Ridge 20-14 in the final 98 seconds, the Wildcats drove to near midfield.

Alec Keathley and Neyland Harmon then forced a fumble after hitting Oak Ridge quarterback Herbert Booker, and FHS teammate Caleb Kuhn recovered to seal victory with just 34 seconds to play. Farragut stayed unbeaten, improving to 4-0, while ORHS fell to 3-1.

"Their team is super quick," said Keathley, who also recovered a fumble.

"There at the end we just knew we had to step up and stop them," said Jake Parsons, Ads senior linebacker.

"We knew they would be a fast team, so we practiced our angles (of pursuit) all week," Benji Cheatham, FHS senior linebacker, said.

Despite "a few errors" defensviely, Cheatham added, "I think we did amazing."

Eli Purcell, sophomore defensive end, led in tackles with six.

Daniel Bethel, FHS sophomore kicker, nailed the go-ahead 46-yard field goal with 1:57 left in the third quarter.

"Going out there I definitely didn't see that was 46 yards," Bethel said. "I was just focused on my normal routine, just acting like it was a normal (extra point), just thinking about striking it smooth. Someone told me afterwards it was 46, and it just struck me by surprise. I had no clue it was that far."

His second field goal, from 32 yards, capped the 18-play, time-consuming drive, which ended with 1:50 to play. Bethel also had four touchbacks.

Farragut finished with a 356-246 edge in total offense.

The Wildcats' 22-yard TD passcame two plays after a deflected pass was intercepted at the Ads 25 midway into the first quarter.

An Admirals goal-line stand kept Oak Ridge from going up 14-0 early in the second quarter, stopping the Wildcats on downs at the FHS 2.

Farragut then went 98 yards to tie the game, ending with a 50-yard touchdown pass from junior quarterback Gavin Wilkinson to senior receiver Tanner Corum. Kyle Carter's 52-yard run set up the score.

Corum's second big catch, covering 42 yards, set up Wilkinson's 3-yard bootleg scoring run midway into the second quarter making it 14-7. "This is the best team we've played defensively for sure," Wilkinson said. "They have a ton of athletes out there."

Farragut's defense bent, with Oak Ridge's quickness and elusive quarterback making big plays, but again stiffened at the FHS 2.

The Wildcats missed a 19-yard field goal to end the half.

Only eight yards from a 21-7 lead early in the third quarter, a Wilkinson slant pass deflected off an FHS receiver's hands, went up in the air and was returned 99 yards to tie the game.

"You've got to always overcome stuff like that," Wilkinson said.

Brady Hodges, Ads sophomore punter, ended with a 41-yard average on three punts.

This was Farragut's first win at Blankenship Field since 2011.

Farragut later found good fortune when another broken coverage left a Wildcat wide open deep — but the ORHS receiver dropped a sure touchdown pass midway into the third quarter.

Next up is Homecoming Night at FHS, with Jefferson County (3-1, 0-1) coming to Bill Clabo Field this Friday evening. Opening kiickoff is set for 7:30 p.m.