A high school All-American, Dodgen to be inducted into Gatlinburg-Pittman H of Fame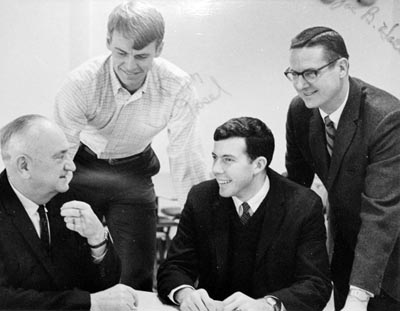 As a high school All-American forward, Donald Dodgen, seated right, is surrounded by Kentucky Wildcats during a "blue carpet" recruiting trip to Lexington in November 1968. Also seated is Hall of Fame UK head coach Adolph Rupp, joined by Wildcats All-American forward Dan Issel, standing left, and Joe B. Hall, then UK assistant coach who went on to become Wildcats head coach from 1972-73 through 1984-85.

Long before his coaching and teaching skills — and humorous stories — became a staple at Farragut High School, Donald Dodgen was a high school basketball All-American sought by many of the nation's top college programs.

Guest of honor for University of Kentucky Basketball in Lexington in November 1968, with the royal blue carpet rolled out for the 6-foot-5 senior power forward from Gatlinburg-Pittman High School, Dodgen found himself across the breakfast table from the legend himself — coach Adolph Rupp.

"All at once coach put his fork down and looks up, and he says, 'If you want to come we want you. If you don't want to come, that's OK, too. But we'd like to have you,'" Dodgen recalled Rupp saying, almost 50 years later, about the GPHS star being offered a full-ride scholarship to one of the top basketball programs in the nation.

"That's the way coach (Rupp) was: a man of few words," added Dodgen, current FHS athletic director and physical education teacher, who finally is getting his due recognition at GPHS.

The ex-All-American, a four-time All-state honoree who scoring 3,318 points in his high school career, averaging 36 his senior year, will be inducted into GPHS Hall of Fame. Ceremony starts at 6 p.m., this evening, Thursday, Sept. 20, at Rocky Top Sports Center in Gatlinburg.

"It's an honor," said Dodgen while praising his high school head coach at GPHS, Eugene W. Huskey, and elementary school coach Leroy Maples.

Maples "taught me fundamentals and how to play hard, and my high school coach taught me how to win the right way," he said.

Though just preparing to be inducted into GPHS Hall of Fame, "They retired my (No. 30) jersey in 1992," Dodgen, 68, said.

After the recruiting dust settled, Rupp's mighty Wildcats were left at the altar: Dodgen ended up staying close to home, signing with rival Tennessee and playing under then head coach Ray Mears — but for just one season before transferring.

But Dodgen had a stellar college career on the NAIA level: a three-year star forward at Tennessee Wesleyan College (now Tennessee Wesleyan University) in Athens for another of his beloved coaching mentors, the late Dwain Farmer. Dodgen also is a member of TWU Sports Hall of Fame, where his No. 30 jersey also is retired.

"I could shoot the ball, I had the knack," he said. "I worked hours-on-hours. I would shoot when it was raining, snowing and cold."

However, 'I wasn't a very good defensive player," he added.

Part of Dodgen's hoops legacy was built as a highly respected coach. Making four stops during his 31-year head coaching career (McMinn County High School, Wesleyan, GPHS and FHS) he compiled a 655-309 record (1977-1983, 1985-2010) — without a losing season — the final 14 with the Admirals varsity boys (308-141).

"I've got to give lots of credit for my success to my parents, Rellie and Jewell Dodgen," he said.

While having three children who have excelled at playing and coaching basketball, Dodgen said about his wife, Mary Ann, "I give her all the credit for raising those three children. And they're successful today because of her."

Moreover, "If it wasn't for my wife, I would not be where I'm at today," Dodgen added.

Recalling the recruiting climate in the area his senior season at GPHS, "There were 25 college coaches at the game the night we played at Rogersville," Dodgen said. "I was really lucky, I scored 52 points that night."

He also recalled a game against Friendsville High School (now William Blount), where a future women's college basketball coach, one of the nation's best, was guarding him.

Though scoring 45 points that game while being guarded by Andy Landers, who went on to become head coach of University of Georgia Women's Basketball, "his claim to fame is, he held me to 45 points," Dodgen said.